Planning your documentary film is essential because you want to make sure you have all the information needed before you start filming. When you've done your research and you have all the information about your topic you need, you can structure your info film in a way that captures the attention and interest of your audience.
Like any good story, your documentary needs a strong beginning, middle, and end. Breaking your documentary into three sections helps to structure the information you want to include, as follows:
Introduction: Your introduction should captivate your audience and make them want to watch more. Here is a great opportunity to tell your audience what your documentary film is about and what you will be including in the main section. Most documentaries have a short introduction at the start to introduce the topic, the characters, and subjects.

Your documentary could include a short introduction with a voiceover to introduce the audience to the making of the film. The introduction will also include clips from interviews from the main section to introduce the cast and crew from the film. This gives the audience a little taste of what is to come and what to expect.

The body or main section: This is where you tell your story with your interviews, voiceovers, and video clips. It's an opportunity to explore your topic and to pick out the interesting information or the moments you would like to present to your audience. It's also a chance to get to know the characters and understand why they're involved in your info film.

In one crew's documentary, the main section will include interviews from the cast and crew of the film, video clips to go with the interviews, and facts and information about how the film was made and what inspired the story. The aim here is to present information that the audience may not know and to promote the film.

Conclusion: Ending your film with a conclusion can help the audience members make up their minds about the information you've presented. Your conclusion summarizes the main points covered in your film and brings the story to a natural end, leaving your audience feeling informed. This may include the answer to a question asked in the introduction, or the end of a journey started in the introduction.

You may wish to include information about the subject at the end of your info film with a call to action, which is a way the audience can respond to what they have just watched. Calls to action are often used with charity or promotional films that leave information at the end. The conclusion for one crew's documentary includes some final quotes from the film crew and cast about how they felt about making the film and what they enjoyed most.
Your job as a documentary filmmaker is to present information to your audience without showing your feelings or opinions on the topic.
Make a list
When you make a documentary, you might want to make a list of all the information and items you want to include in the film and then create a list of character interviews. Then, put this list into an order that will keep your audience interested throughout the film. Imagining the way the audience feels and the questions they may ask helps you choose the information to include in the film. Use this list to create a shot list, which shows every shot to include in the film.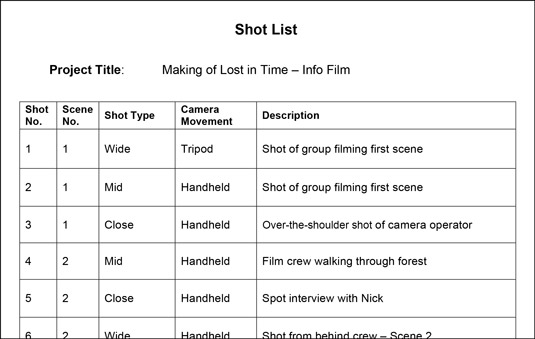 A shot list for a documentary.
Tell your story
At this point, you should think about how you're going to tell your story. Documentaries can be told in different ways, such as through the use of a voiceover or through what your characters and subjects say. A voiceover is a popular way to narrate such films, but letting the characters tell the story can feel more natural.
If you are using a voiceover, write the script before filming. This helps to create a shot list and to structure your film. Your voiceover should always present information; it should never have an opinion. On the other hand, if you're using your characters to tell your story, be sure to have a list of questions to ask them.
Write interview questions
Before you interview your actors, take a look at this list of things to think about when writing the questions to ask in those interviews. Asking open‐ended questions can help you avoid one‐word answers. You may also want to ask two questions together to get the most out of the answer.
Who? Whom will you interview? Your interviews can play an important part in your film, so choose your subjects and characters carefully. Choose people who are confident enough to talk on camera and have the knowledge to answer the questions clearly. You may wish to include information about your subjects and characters in your documentary, so think about the questions you could ask to get this information.

What? Think about what you'll ask your subjects or characters to get more information about the topic. You may wish to ask questions about their experiences and how they are involved in the topic to show their knowledge.

When? If you're creating a documentary film about an event or a party, then the date and time are quite important. You may want to ask your subjects or characters questions about when they do something or how often they do it.

Where? You may wish to include questions about the location or venue of the topic, if it's needed. You could film your interview in a place that's connected with the topic.

Why? Using why in your questions is a great way to get more information out of a character or subject during the interview. Questions beginning with why are simple, but they're more likely to give you longer and more emotional answers.
About This Article
This article is from the book:
This article can be found in the category: