As a filmmaker, the most important people to you are the audience — they're one of the reasons you make films. It's important to avoid upsetting or distracting your audience. One easy way to distract them is called crossing the line or crossing the axis. This happens when the audience's view of a scene changes so drastically that viewers end up distracted or confused. This may not sound like a big deal, but to a viewer, it's highly disorienting.
Some filmmakers choose to cross the line on purpose so as to add a sense of disorder or confusion to a scene. For example, you may cross the line in a fight or riot scene to add to the chaos and disorient the audience.
Here is a diagram showing a bird's-eye view of a scene in which two characters are having a conversation. A line has been drawn down the middle of the scene to show you how the scene has been divided and where you could place the cameras. The first camera angle is labeled "A" and the second camera labeled "B."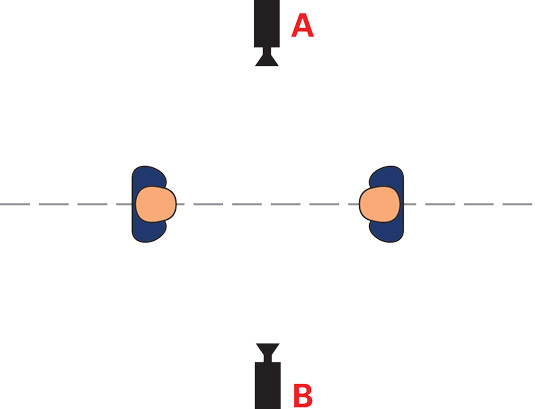 Crossing the line with a birds-eye view.
When editing, if you decide to cut from camera angle "A" to angle "B," it will look like your characters suddenly have swapped places. This shows the footage from both camera angles; "A" and "B" show what the audience would see when changed from one to the other.

Swapping places.
Crossing the line can confuse and disorient the audience. They may not even realize why they're confused, but they will notice something is wrong and may be distracted. Staying on one side of the line avoids confusion, and your shots will look great. This is called the 180-degree rule. Below, the positions are labeled where you could place camera angles in this scene.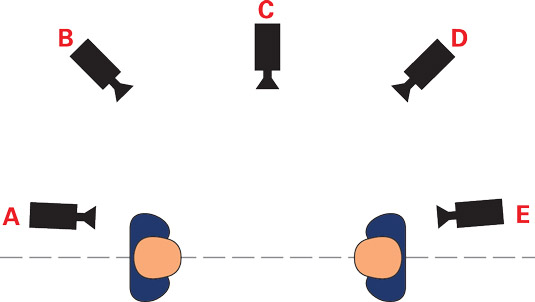 Do you want your audience to feel disoriented?
Camera angles "A" and "E" above are over-the-shoulder shots, and angle "C" is a mid shot showing both characters. Angles "B" and "D" could be used as mid shots to show both characters or as cut-in close-up shots to show hands or items on the table.
When you're setting up your scene, be sure to work out where your line is before you start filming. You don't need to draw an actual line, but just think about where your line is and avoid crossing it.
About This Article
This article is from the book:
This article can be found in the category: