The Academy Awards, casually called the Oscars, is a formal awards ceremony to honor the best achievements in filmmaking from the previous year. The Academy Awards, from the nomination and voting processes to the ceremony itself, are overseen by the Academy of Motion Picture Arts and Sciences.

The Academy has more than 10,000 members and is a professional honorary society of people involved in all aspects of making movies.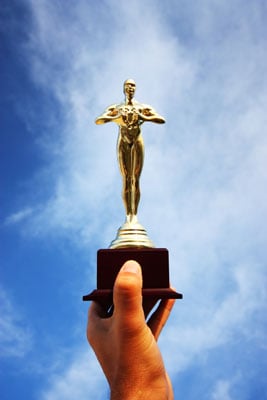 ©Aydin Multa / iStockphoto.com

The first Academy Awards were distributed in 1929 at the Hotel Roosevelt in Hollywood. Cinema has changed since then, and so have the categories for awards. Currently there are 24 awards categories presented at the ceremony, with more Oscars handed out for other lesser achievements before the formal ceremony.

Some top categories of Academy Awards are Best Actor/Actress in a Leading Role, Best Actor/Actress in a Supporting Role, Best Picture, Best Director, Best Costume Design, Best Music, Best Visual Effects, and Best Animated Feature Film.

One of the more prestigious award ceremonies in the world, The Academy Awards ceremony is televised in over 100 countries. Those who love cinema tune in to see how their favorite movies and performers fare. Those who love fashion watch to see what the celebrities are wearing — which is often the latest in couture with astronomically expensive (usually loaned) jewelry.

A film must open in the previous calendar year in Los Angeles County to qualify for the next year's Academy Awards ceremony (the one exception to this is Best Foreign Language Film).

Often, if moviemakers think they have an award winner on their hands, they'll release a movie in the last week of the year to qualify for the upcoming awards. For example, Silver Linings Playbook was released on December 25, 2012 and was nominated for Best Picture and other Oscars in January, 2013). Conversely, the 2009 Best Picture Winner, The Hurt Locker, was first released in 2008, but didn't release in Los Angeles County until 2009, so it won its Best Picture award in 2010.

In late December, all Academy members receive ballots to select nominees for the next ceremony. For most categories, Academy members vote only for their peers (directors vote for nominees for Best Director, actors vote for nominees for Best Actor, etc.).

The exceptions to this are for Foreign Film, Documentary, and Animated Feature Film categories, which are nominated by special committees made up of members across the Academy, and all members are allowed to vote for nominees for the coveted Best Picture award.

The winners for each category are determined by a second voting round, which is opened up to all members of the Academy for most categories.

Here is some fun Oscar trivia:
Walt Disney won more Academy Awards than any other person, with 26 Oscars (22 for his films and four honorary awards).

Edith Head won more Academy Awards than any other woman, with eight Oscars (all for Costume Design).

Katharine Hepburn won more Academy Awards than any other actor/actress, with four Oscars.

Jack Nicholson, Daniel Day-Lewis, and Walter Brennan are tied for male actors winning the most Oscars.

Meryl Streep has been nominated for more Academy Awards than any other actor/actress, with 21 nominations (she's won three times).

Three films are tied for winning the most Oscars total: 11. These films were: Ben-Hur, in 1960; Titanic, in 1998; and The Lord of the Rings: The Return of the King, in 2003.

Tatum O'Neal is the youngest person to win an Oscar — she was 10 when she won Best Supporting Actress for Paper Moon (1973).

Anthony Hopkins is the oldest person to win the Best Actor award; at age 83, he won for The Father in 2020. Before that, it was Christopher Plummer, who was 82 when he won for Beginners (2010).

James Dean is the only person to be nominated for two posthumous Academy Awards, for East of Eden (1956) and Giant (1957).

Beatrice Straight holds the record for winning an acting award for the shortest role — in 1975's Network, she was on screen for 5:40 minutes.

Woody Allen has been nominated for 21 Academy Awards, but he's only attended the ceremony once (in a year he wasn't nominated).

No one really knows how The Oscars got its name. One story is that an Academy librarian saw one of the first statuettes and exclaimed "it looks just like my Uncle Oscar!" Another story is that Bette Davis named it after her ex-husband, Harmon Oscar Nelson, Jr.
About This Article
This article can be found in the category: