If you listen carefully to any great bluegrass band, you'll hear that each instrument, including the banjo, has a unique job to do. Whether you're playing just a few notes (like the bass player) or a lot of notes (like, well, the banjo player!), it's everyone's responsibility to contribute to the precise rhythm of the total band.
It's true that banjo players do get to play more notes than any other bluegrass musician, but this is a big responsibility! When you play smoothly and in good rhythm, you're laying down a groove that locks in with the patterns that other musicians play to create the irresistible drive that defines great bluegrass music.
The banjo accomplishes this primarily through playing roll patterns, using these picking techniques for both featured solos and backup playing. Down‐the‐neck backup refers to playing picking patterns while fretting chords in the first position on the lower frets of your banjo (close to where the tuners are).
Before you can mix and match roll patterns with other backup techniques, you'll need to get comfortable using the basic roll patterns as your primary backup. Here, you find your picking groove using alternating thumb, forward‐reverse, and forward rolls to accompany three bluegrass classics. Your job is to play these rolls smoothly and in good rhythm, not stopping as you move from one chord to the next.
Using alternating thumb rolls
The alternating thumb roll is a great way to get started with using roll patterns to play banjo backup. The tab below shows you how to use this roll as accompaniment to the Kentucky coal-mining classic "Nine Pound Hammer."

Using alternating thumb rolls to play backup to "Nine Pound Hammer."
Using forward‐reverse rolls
The forward‐reverse roll is another way to effectively accompany others using down‐the‐neck backup techniques. Try this roll as an accompaniment to the Carter Family favorite "Will the Circle Be Unbroken."
Although it's natural to check out the tabs for all these examples, try not to stare at the written music as you play. If you're already comfortable playing the roll patterns you need, it's better to just play along with the audio track without looking at the tab. If you listen for the chord changes as you play through the tune, you'll be using the same skills that you'll need in real jam sessions.
Using forward rolls
Forward rolls put the drive and power into down‐the‐neck roll‐based backup playing, and these are the primary rolls that professional players use for this type of accompaniment. Because of the nature of the forward roll — which by definition contains some combination of notes played by the picking‐hand thumb, index finger, and middle finger in succession — it can be a challenge to fit the forward roll into one‐measure patterns.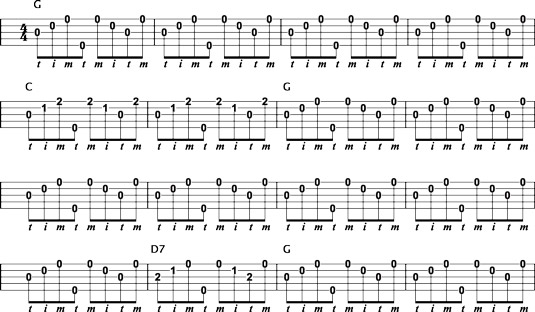 Using forward‐reverse rolls to accompany "Will the Circle Be Unbroken."
Choosing forward rolls
Check out the tab below, which lays out some great choices for these patterns. You can play a seven‐note roll, where the first note is a quarter note that takes up the rhythmic space of two roll notes, or you can pick the conventional eight‐note roll. If you're just getting used to playing forward rolls, try the seven‐note patterns first as written out for the G, C, and D7 chords, and then shift over to the eight‐note patterns when you're ready.
When deciding which roll to play for backup, it's a great idea to choose a roll variation that includes the strings that you're fretting for the C and D7 chords. As you play through the examples, note that although the order of picking‐hand fingers remains the same, you'll strike different strings for each chord. Playing the second string for the C chord reinforces to the listeners that this is the chord you want them to hear. For the D7 example, you play the third and fourth strings to create the same effect.

Forward‐roll patterns for playing backup with G, C, and D7 chords.
Adding fill‐in licks
Your backup playing will take a huge leap forward if you add a few tasty fill‐in licks to your repertoire of techniques. Fill‐in licks are used at the end of a chord progression, when you return to the G chord after playing a D7 chord, or when the singer takes a breath or pause between the lines of a song lyric. Fill‐in licks are interchangeable from one song to the next, so every time you learn one, you can use it in just about every other song you play.

Three essential Scruggs‐style fill‐in licks.
Playing "Roll in My Sweet Baby's Arms"
It's time to combine these ideas to create a driving backup for "Roll in My Sweet Baby's Arms," a bluegrass standard associated with Flatt & Scruggs. Take care to adjust the roll patterns to highlight the fretted strings for each chord, and don't forget to add those fill‐in licks whenever you get the chance.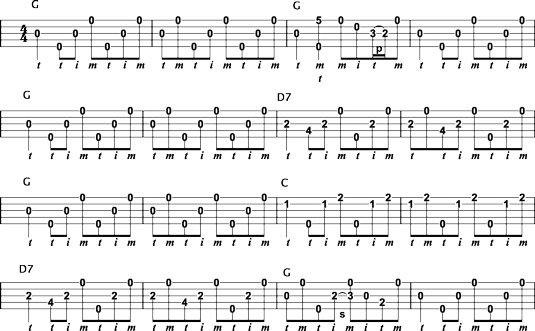 Forward‐roll backup for "Roll in My Sweet Baby's Arms" using fill‐in licks.
About This Article
This article is from the book:
This article can be found in the category: