Shopping made simple — that's what you'll find when you do it in American Sign Language (ASL). After you know how to sign the store you want to visit and the deals you're looking for, the rest is a breeze.
Signing specialty stores
Everyone at one time or another goes to market. You'll be the guru of shopping when using the signs in this table.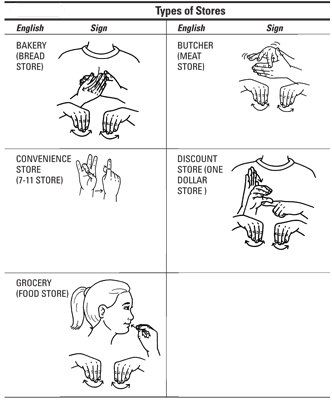 Here are some sentences to get you warmed up:
English: I went to the butcher's.

Sign: FINISH — MEAT STORE — GO ME

English: The bakery smells good.

Sign: BREAD STORE — SMELLS DELICIOUS

English: The grocery store is open.

Sign: FOOD STORE — OPEN
What's on special: signing about sales?
Few things are more satisfying than saving money when you're shopping for groceries. Signing specials from the marketplace, like those in this table, will give you the upper hand.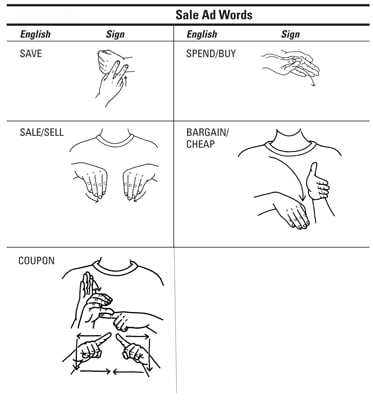 These sentences can save you big when you're shopping:
English: The meat is on sale today.

Sign: TODAY — MEAT SALE

English: You can buy two steaks for the price of one.

Sign: TWO STEAKS — PAY — ONLY ONE

English: I saved money.

Sign: FINISH — MONEY SAVE ME

English: You spent too much.

Sign: FINISH — SPEND — (implied YOU) TOO MUCH
A good way to sign "two for the price of one" is BUY TWO PAY ONE. "Coupon" can be signed by signing DISCOUNT and then making a small square in the area with your index fingers.
About This Article
This article can be found in the category: