Whether you're going to have breakfast, lunch, or dinner with friends who use American Sign Language (ASL), you need to know a few signs about your meal. And don't forget to thank your host or hostess with the appropriate sign!
Signing breakfast-related words and phrases
You sign "breakfast" by signing "morning meal."

The signs in this table can certainly help at the breakfast bar or at the breakfast table.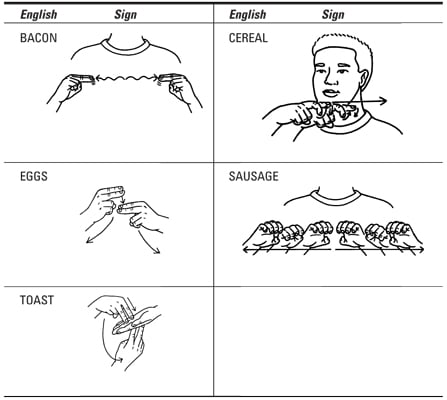 Get going on practicing your early-morning skills with the following examples:
English: I want eggs, not cereal.

Sign: EGGS WANT — CEREAL NOT — ME

English: The orange juice is cold.

Sign: COLD O-J

English: I'll have sausage and eggs.

Sign: SAUSAGE — EGGS — HAVE ME
Signing words associated with lunch
To sign "lunch," combine "noon" and "meal."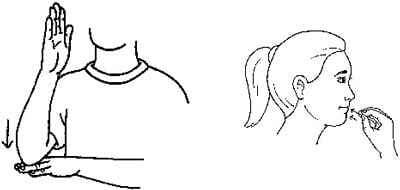 Doing lunch with friends is at your fingertips. The set of signs in this table can hold you through the afternoon.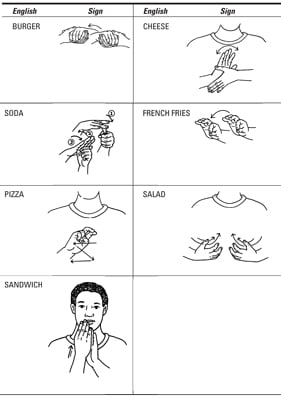 Follow these examples:
English: I'm hungry, and it's time for lunch.

Sign: NOW TIME — NOON FOOD — HUNGRY ME

English: I'd like a cheeseburger and fries.

Sign: CHEESEBURGER — FRIES — LIKE ME

English: The soda is cold.

Sign: SODA — COLD

English: I want a sandwich and salad for lunch.

Sign: NOON FOOD — SANDWICH — SALAD — WANT ME
Dinner-related words in Sign language
Because dinner is served in the evening, you sign it as "evening meal."

Putting the evening meal into conversation is a piece of cake. Follow the signs in this table, and you'll say a mouthful.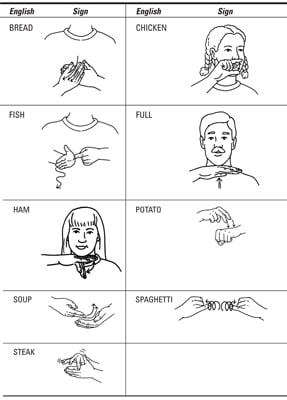 Here are some dinner-related sentences to give you practice:
English: Soup and bread were served.

Sign: FINISH — SOUP — BREAD — SERVE

Finish at the beginning of a sentence adds past tense to the whole sentence. (See Chapter 2 for more information on signing in past tense.)

English: Chicken and spaghetti are on special.

Sign: SPECIAL — WHAT — CHICKEN — SPAGHETTI

English: The steak is rare.

Sign: STEAK — R-A-R-E

English: I'd like a potato with my fish.

Sign: MY FISH — POTATO TOGETHER — WANT ME
Sign language for beverages
Drinks are often a big part of any meal. This table can help you when asking for common beverages.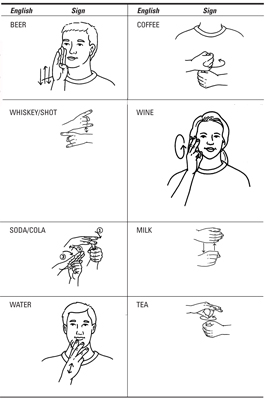 Here are some sentences that use beverage signs:
English: We need ice.

Sign: I-C-E — NEED US

English: The water is warm.

Sign: WATER — WARM

English: I need a glass for my beer.

Sign: BEER GLASS — NEED ME

English: The coffee is strong.

Sign: COFFEE — STRONG
About This Article
This article can be found in the category: