Everyone enjoys going out to restaurants from time to time, including members of the Deaf community. Familiarize yourself with the signs related to dining out, as well as the signs for certain types of food and dishes.
Deaf people usually point out to the server what they want on the menu. If you're dining out with Deaf people, don't try to take control when ordering. They've probably been eating in restaurants long before they met you.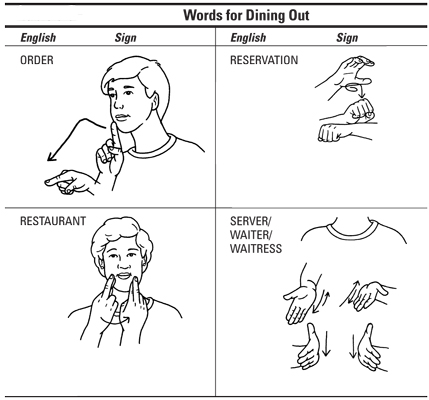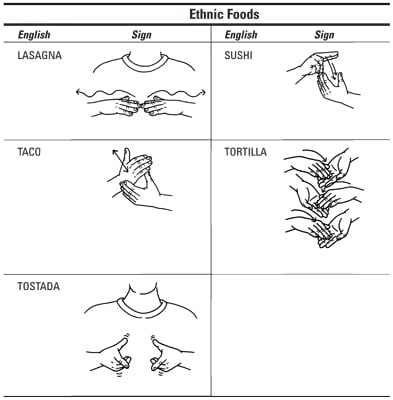 ASL doesn't have established signs for ethnic foods. If the grub is popular, you may see a variety of ways to sign it (if there isn't already an established sign from its country of origin). In the southwestern part of the United States, Mexican food is popular, and Mexican Sign Language for this ethnic food is pretty well established in the border states.
The following sentences will work up an appetite for any eager signer:
English: We will eat dinner at a restaurant.

Sign: RESTAURANT — EVENING FOOD — EAT THERE — WE WILL

English: I like egg rolls.

Sign: EGG R-O-L-L-S — LIKE ME

English: Tostadas are cheap.

Sign: TOSTADA — CHEAP

English: She likes tortillas.

Sign: TORTILLAS — SHE LIKES
About This Article
This article can be found in the category: