The majority of American Sign Language (ASL) sports signs look like what they represent. For example, the signs for tennis and baseball mimic the swing of a racket and bat, respectively. Don't you just love it when signing is this easy? This table shows you popular sports signs.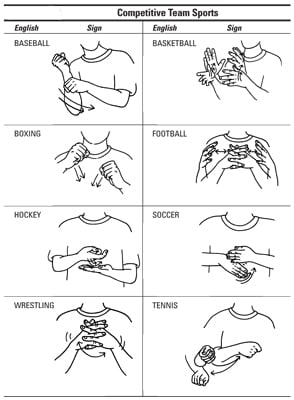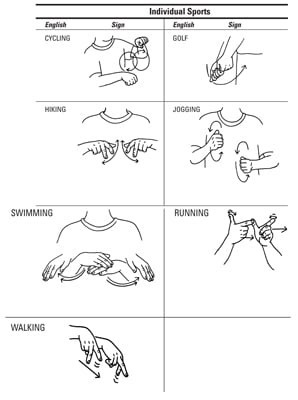 Signing ball is easy: Mimic putting both hands on a ball; do it with a double motion. You can make the ball as small or as big as you want.
This table gives you signs for competitive terms.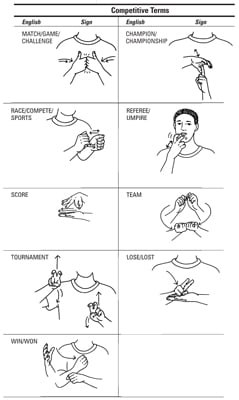 Some of these competition signs are a bit tricky, so here are some pointers:
GAME and MATCH get a double motion, but CHALLENGE gets a single motion.

If you want to sign VERSUS, use the same sign as the one for challenge.

COMPETE, SPORTS, and RACE are all signed the same way. Make the manual A handshape with both hands, put your palms together and then alternate them back and forth. If you want to show fierce competition, grit your teeth and alternate your hands rapidly.

TOURNAMENT starts the sign with both hands in the same handshape — index and middle fingers bent, palms facing addressee with your dominant hand higher than your passive hand. Now, alternate them up and down.
Here's how to put these signs into ASL sentences:
English: He can box and wrestle.

Sign: BOX — WRESTLE — BOTH CAN HIM

English: If you play soccer, you can't play basketball.

Sign: IF SOCCER PLAY YOU — BASKETBALL PLAY YOU — CAN'T

English: Our team won the race.

Sign: OUR TEAM — RACE — WON

English: Mark is a good golfer.

Sign: M-A-R-K — GOOD GOLF (AGENT)

English: Do you like cycling?

Sign: CYCLING — YOU LIKE Q
About This Article
This article can be found in the category: