Most people find landmarks to be helpful when giving or receiving directions, and you can communicate that information through American Sign Language (ASL). After all, signing for someone to turn right at the bottom of the hill is much easier than signing that you need to turn right after traveling 1.3 miles.
Signing natural landmarks
The signs for natural landmarks in this table are sure to help you give or get directions.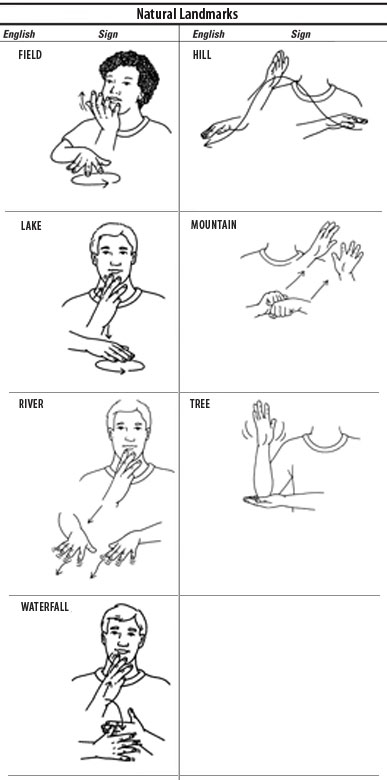 Take a look at the following sentences to see how you can use these landmark signs when giving directions:
English: My house is at the top of the big hill.

Sign: BIG HILL — MY HOUSE — TOP

English: When you get to the lake, turn right.

Sign: LAKE ARRIVE — RIGHT TURN
Signing city directions
Going through town can be overwhelming unless you know how to get where you're going. This table demonstrates the landmarks you may use to direct someone in the city.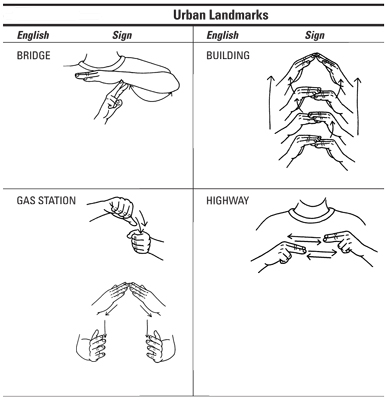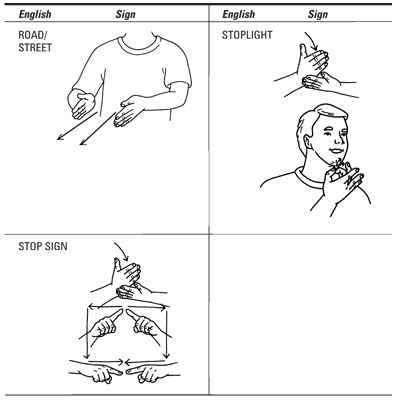 You've no doubt given directions similar to the ones in the following examples. Now, see how to do it in ASL:
English: Pass the park and go three miles south.

Sign: P-A-R-K PASS — SOUTH THREE M-I-L-E-S GO

English: At the stop sign, go right.

Sign: STOP SIGN ARRIVE — RIGHT

English: The gas station is near the highway.

Sign: HIGHWAY — GAS STATION — NEAR
About This Article
This article can be found in the category: