A major force in the anti-apartheid movement in South Africa, Nelson Mandela (July 18, 1918 - Dec 5, 2013) was a cultural symbol of freedom and equality. Going from young revolutionary to serving 27 years in prison to becoming president of South Africa, Mandela's life demonstrated that wisdom and patience can triumph over bigotry and brute force. Truly, he was a towering figure of 20th century history and is considered by many to be the father of modern South Africa.
While Mandela came to prominence in the fight against apartheid, later in life his passion turned to the fight against HIV/AIDS and he used the power of his name to raise awareness of the issue on the global stage.
When his son, Makgatho Mandela, died from AIDS in 2005, Nelson Mandela recognized that the stigma of the disease was causing people to avoid testing and treatment. Therefore, he called for more open discussion of the virus and he created the 46664 AIDS fundraising campaign (so named because 46664 was Mandela's prison number, which served as a reminder of the sacrifices Mandela was personally willing to make for causes he saw as just).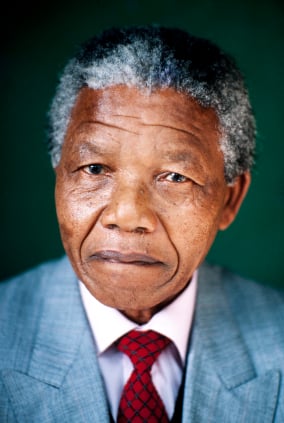 Credit: ©ruvanboshoff 1990
In 2007, Nelson Mandela brought together elder statesmen, peace and human-rights activists including Jimmy Carter, Kofi Annan, and Li Zhaoxing into a non-governmental organization called The Elders. The purpose of this organization was to focus their combined collective wisdom on some of the world's more pressing problems.
By the sheer power of his reputation, he continued to affect world issues without being actively involved in them. On November of 2009, the United Nations General Assembly acknowledged Mandela's contributions to world freedom by naming his birthday, July 18, as Mandela Day.
Mandela and the anti-apartheid movement
South Africa's National Party consisted mostly of Afrikaners (whites who were descended from Dutch Calvinists, Germans, and French Huguenots). The African National Congress (ANC) was the political party of the black majority and favored non-racial democracy. Mandela became involved in the African National Congress in 1943, but the victory of the National Party in the 1948 election led to the apartheid system of racial segregation becoming the law of the land. Nelson Mandela rose to prominence in the ANC's 1952 Defiance Campaign, which encouraged the public to refuse to obey certain laws that were considered unjust and discriminatory, and the 1955 Congress of the People, a political summit that 'called for a non-segregated South Africa. The Congress of the People drafted a Freedom Charter that became a fundamental document in the anti-apartheid cause. Its opening statement, 'The people shall Govern!" set the tone for the rest of the text.
At first committed to non-violent methods to change the system from within, Nelson Mandela and his colleagues embraced the need for armed action against the government after the shooting of unarmed protesters at Sharpeville in March 1960 and the resulting ban of anti-apartheid groups.
In 1961, Mandela became the commander of the African National Congress' armed wing, Umkhonto we Sizwe, which translates to "Spear of the Nation." But the group was quickly classified as a terrorist organization by the South African government, and Mandela was arrested and jailed for five years for inciting workers' strikes and leaving the country without permission.
While in jail Mandela was sentenced again, this time to life imprisonment, having been accused of planning guerrilla warfare to overthrow the South African government. His statements in court brought considerable international attention to the grievous plight of South African blacks under apartheid and organizations from the United Nations to the World Peace Council called for his release. Regardless, in June of 1964, Mandela was found guilty and incarcerated at Robben Island Prison off Cape Town. Later he was moved to the Victor Verster Prison near Paarl.
While in prison, Nelson Mandela rejected offers for remission of his sentence in exchange for accepting and supporting the apartheid system. He remained in prison until February 1990, when mounting pressure from the international community secured his release, as well as the lifting of the ban on the ANC and other anti-apartheid organizations.
Upon his release, Nelson Mandela once again took up the reins of leadership of the ANC and he worked closely with then President F.W.de Klerk to dismantle the institutions of apartheid in South Africa. Mandela and de Klerk shared the Nobel Peace prize in 1993 for their work. During this time, Mandela also led the ANC in the multi-party negotiations that resulted in South Africa's first multi-racial elections.
Mandela's presidency
Nelson Mandela became president of South Africa in 1994. As the nation's first black president, he orchestrated the transition from minority rule and institutionalized apartheid to a more equal and fair political and social system.
Nelson Mandela retired from the presidency in 1999 to become an advocate for a variety of human-rights issues. By this time, he was a respected statesman throughout the world, and Mandela championed many pertinent social and political issues of the day. In 2002, he declared the United States to be a "threat to world peace" and called on then president George W. Bush not to launch an attack on Iraq.
Because of declining health, Nelson Mandela retired from public life in 2004. Over time, Mandela's public appearances became more rare, and he died at his home at the age of 95 in December, 2013. His name, however, remains attached to numerous charitable functions close to his heart. The Nelson Mandela Invitational Charity Golf Tournament raises millions of funds for children's charities in South Africa.
Nelson Mandela's early years and education
Nelson Rolihlahla Mandela was born in Transkei, South Africa on July 18, 1918 to Chief Henry Mandela of the Tembu tribe, one of South Africa's leading dignitaries. He attended a local mission school before receiving a BA degree in 1942 from the University College of Fort Hare in Alice, Eastern Cape. In early 1943, Nelson Mandela enrolled at the University of the Witwatersrand in Johannesburg to obtain a Bachelor of Laws degree.
Mandela's focus on the ANC drew him away from his pursuit of a law degree, but in 1952, he decided to do the qualifying exam that would allow him to practice as an attorney. He passed the exam and completed his actual degree in 1989.
Nelson Mandela's family life
Mandela was married three times. He fathered six children, three of whom passed before him.
Mandela's first marriage was to Evelyn Mase. They were married for 13 years and had four children, one who died in infancy. Their divorce was brought about by the conflict between Mandela's desire to change the government and Evelyn's devout status as a Jehovah's Witness, a religion which requires political neutrality.
Mandela's second wife, Winnie Madikizela-Mandela was Johannesburg's first black social worker and a politician in her own right. Together they had two daughters, who were both under the age of 5 when their father was sent to Robben Island prison. The couple separated in 1992 and divorced in 1996.
In 1998, on his 80th birthday, Mandela married his third wife, Graca Machel, who was with him until his death. She was the widow of the late Mozambican president Samora Machel, an ANC ally who died in an airplane crash in 1986.
About This Article
This article can be found in the category: