How to Find and Install Free WordPress Theme
How to Find and Install Free WordPress Theme
Free WordPress themes are popular because of their appealing designs, easy installation and use, and mostly their price tag — free. They're great tools to use when you launch your new site, and if you dabble a bit in graphic design and Cascading Style Sheets (CSS), you can customize one to fit your needs.
By using free themes, you can have your site up and running with a new design pretty fast. You can change your theme as often as you want. Finding the theme that fits you best may take some time, but with thousands available, you'll eventually find one that suits you.
The WordPress platform gives an easy way to browse the Themes Directory page to find, preview, and install themes on your site without ever leaving the comfort of the WordPress Dashboard. The following steps show you how: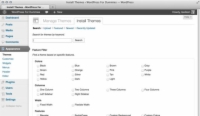 1

Choose Appearance→Themes on the WordPress Dashboard and then click the Install Themes tab at the top of the Manage Themes page.

The Install Themes page opens.
2

Search for a new theme by entering a keyword, author, or tag in the Search box.

You can filter the results by using the Feature Filter check boxes to filter theme results by colors, columns, width, features, and subjects.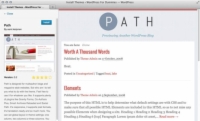 3

After you've entered your search criteria, click the Search button to the right of the Search box.

The search results page displays a list of themes for you to choose from.

Click the Preview link underneath the theme of your choice to view a sample of how the theme looks. To return to the search results page, click the Close link in the upper-left corner of the preview window.
4

After you find a theme you like, click the Install link underneath the theme name to install the theme on your site.

This may take some time with so many options, but be patient and have some fun with it.
5

Click the Install New button to complete the installation.

The window closes, and the Installing Theme page appears.
6

Click Activate to activate and display the new theme on your site.

The Manage Themes page refreshes and displays the activated theme under the Current Theme header, indicating that it's the theme currently in use on your website.

Themes found in the official WordPress Themes Directory have been vetted by the WordPress folks. Your Dashboard hooks into the Themes Directory page on the WordPress.org website, so you find only those themes that are free and safe. Safe themes are free of spam and malicious code and contain basic WordPress functions to ensure that your WordPress site functions with the minimum requirements.