How to Claim Your Klout Perks
How to Claim Your Klout Perks
Congratulations! When you're eligible for a Klout Perk, all you need to do is claim it and you're on your way to enjoying a special treat. If you see a Klout Perk you want, claim it right away! Perks are limited and awarded on a first-come, first-served basis. If the Perk is full, you may be allowed to join a waitlist.
To claim your Perk, follow these easy steps:
1

Log in to your Klout account by pointing your browser to klout.com

Sign in with either Facebook or Twitter.
2

If you have a Perk, your notifications menu will show a number over the word Perks. Click Perks to open the menu.

The menu will open and display your current Perks.
3

If you wish to claim your Perk, select it from the menu.

A pop-up appears, with instructions to claim your perk. Here, you can read a little more about the offer and decide if you want to claim it.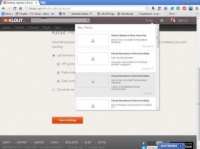 4

To claim the Perk, click the orange Get Started button.

A window opens with further instructions for how to claim this Perk and sometimes includes some of the criteria used to award you this Perk.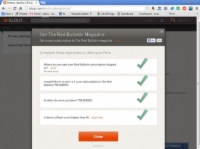 5

Verify or enter your address in the fields provided and click Claim to complete the process.

If you would like to save time when claiming Perks in the future, be sure to enter your contact information in your Profile settings page. By doing so, Klout stores your information so the next time you claim a Perk, you're asked only to verify your mailing information.