How to Block Users on Klout
How to Block Users on Klout
Occasionally, you may have the need to block an influencer. When you block an influencer in Klout, he or she can't view your profile. Instead, when the blocked user clicks your name, a screen appears saying, "This page does not exist." Likewise when you block another influencer, you will no longer be able to view his or her profile and will see the same error message.
If you decide to block someone, the process is simple:
1

Search for the influencer using the search bar at the top of your screen.

A page opens with a list of users.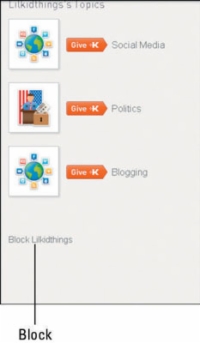 2

Select the user you wish to block. Scroll down until you see the words Block and then the name of the user located below topics of influence in the left sidebar.

The font is a lighter color than the rest of the text on the page.