How to Read Search Engine Results Pages
How to Read Search Engine Results Pages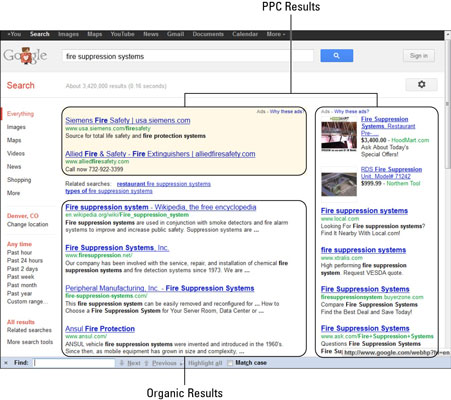 17
Check out the big two: organic and Pay Per Click.
Search results are mostly dominated by two particular indexes: the organic or natural search results, and the PPC (Pay Per Click) search results.
The organic-results index is created by searchbots. For instance, Google uses something called a googlebot to retrieve pages. It's common to talk about searchbots as if somehow they wander around the Web, moving from page to page through links between the pages, collecting the pages, and sending them back to home base to be analyzed and indexed.
The search results typically put ten results from the organic index into the search-results page, though, those results are often interspersed with other types of search results. (In some cases, in particular when adding local results to the page, the search engines may display a smaller number of organic-search results, perhaps seven or eight.)
Today, the three major search engines all display PPC ads, ads that cost the advertiser nothing until someone clicks the ad, at which point the advertiser is charged instantly.
PPC ads are typically placed at the top of the search results (three or four results, though sometimes Google omits the top ads) and in a column to the right of the main search results.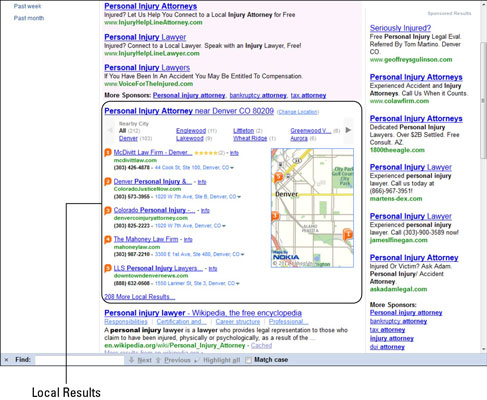 27
Look at local results.
There's a relatively new type of result that has become incredibly important, with a huge presence in many search-results pages. Search Yahoo!, for instance, for the term personal injury attorney, and you may see something like the figure. These Local results can take up a lot of space, in particular in Google and Yahoo!, and thus are an important consideration for businesses that serve a particular geographic area.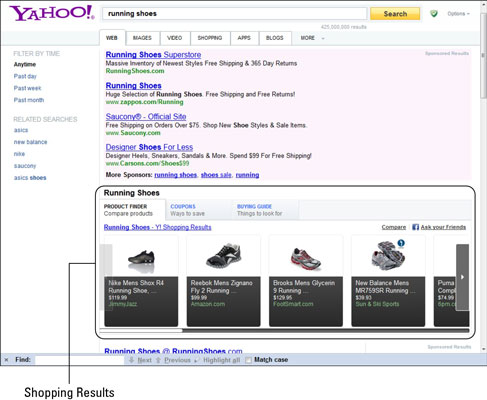 37
Check out shopping results.
It's often not hard for the search engines to figure out when someone is quite likely searching for a product he may be interested in buying. If someone searches for shoes, it's quite likely he's interested in buying a pair, either offline (that's where the Local results come in) or online (that's where the Shopping results come in).
On the other hand, if someone searches on shoe manufacturing victorian england, it's unlikely that he's in the market for a pair.
The major search engines all maintain product indexes, totally separate from the organic or even the PPC indexes.
When a search engine figures you may be looking for product information, it inserts product results — typically with images — into the search-results page. Clicking the Shopping search results leads into the search engine's shopping area, where the searcher can find more information about these, and other, products.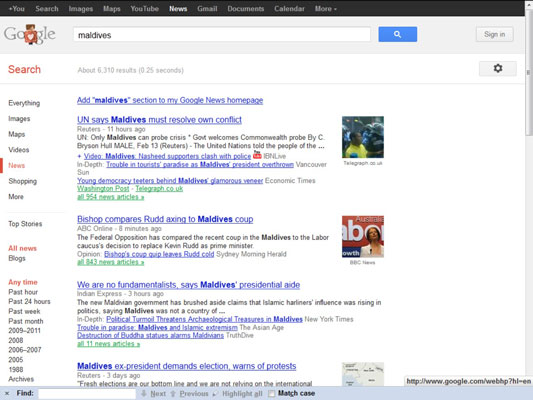 47
Stay current with News results.
Another significant search-result component is the news results. If the search engines think News results might be useful to you, based on your search — search for obama or just about any country name, for instance — then you'll see News results embedded into the results page.
Again, these are from a completely different source; in fact, publishers have to apply to be included in the News results. (Google has an established process and takes many sites. Yahoo! and Bing are far more restrictive.)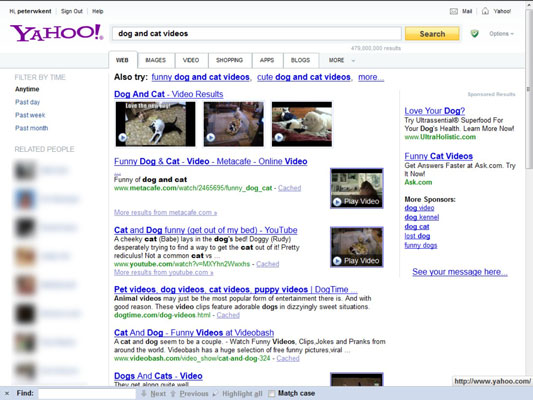 57
View video and image results.
You've almost certainly seen video and image results in the search engines. All three of the major search engines index Youtube.com (it's owned by Google). But they index other sites, too, such as Vimeo.com, Vevo.com, and Metcafe.com. If you want to try getting your videos into the search results.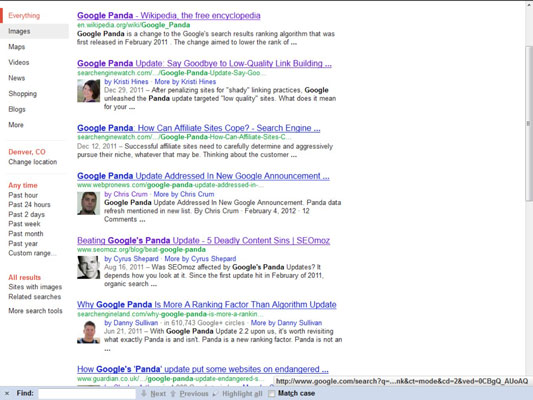 67
Get friendly with social results.
Currently the three major search engines incorporate social-network results into the organic index; in other words, they index social-network sites just like any other site.
There was a time when Google was indexing Twitter tweets and providing them in a little scrolling box embedded within the search results. Google no longer does that, at least at the time of writing. Perhaps the big social-networking news, though, as far as Google goes, is Google+, Google's answer to Facebook.
Have you noticed small author photos associated with search results, often from blogs? These little pictures are coming from Google+ accounts. Google is also personalizing your search results based on your Google+ relationships. If you're searching Google while logged into your Google account, you may see personal results from your Google+ friends at the top of the page.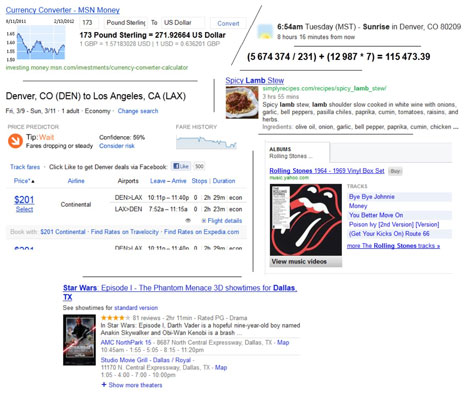 77
Collect bits and pieces.
Finally, the search engines often embed little "bits and pieces" into the search results, data totally separate from these other indexes. For instance, search for sunrise 80209 in Google, and right at the top of the search results you'll see the time of the next sunrise.
Try searching for 173 pounds in usd, in any of the three major search engines, and you'll see the current exchange rate, British pounds to U.S. dollars.
All three also have calculators (try (5674374 / 231) + (12987 * 7), for instance). Looking for a flight? Or movie? Google and Bing will both provide flights, while Google will give you movie times.
You may want to dig around sometime in your favorite search engine — try all the links and see where they go and read the Help pages to see what fancy tools are available. You may be amazed at what you find.