How to Edit New Pages with Dreamweaver
How to Edit New Pages with Dreamweaver
Dreamweaver is a robust application that enables the savvy web designer to create a way-cool website and edit it as well. The beauty of editing pages in a full-featured HTML editor like Dreamweaver is that you can edit the pages as well as the underlying code.
When you edit pages in Dreamweaver, you can work in one of three modes: Design, Code, or the chameleon Split mode, which enables you to view the page and code at the same time. Now, how cool is that? To edit pages in Dreamweaver, follow these steps: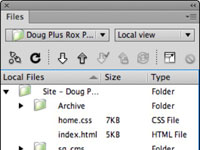 1

In the Files panel, select Local View from the View drop-down menu and then select the site you want to edit from the Site drop-down menu.

Dreamweaver displays the files associated with the site.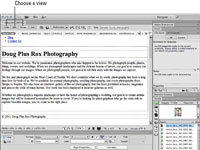 2

Double-click the page you want to edit.

Dreamweaver opens the page in Design mode. Editing pages in Dreamweaver is pretty straightforward. The Properties Inspector is your friend in Dreamweaver. You use it to change links, CSS styles, images, and so on.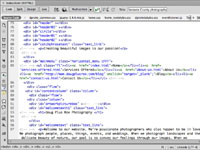 3

Edit the page as needed.

If you need to modify the code, click the Code button to display the page in Code view.

If you need to view both the code and the page at the same time, click the Split button to display the page in Split view. When working in Split view, you can select items in the Display pane, and the underlying code is displayed in the Code pane.
4

After editing and saving the page, click the Put button, which looks like an up-pointing arrow.

Dreamweaver uploads the edited page to the server.