GRE For Dummies Cheat Sheet
GRE For Dummies Cheat Sheet
Getting into the graduate school of your choice is a lot easier if you score well on the GRE (Graduate Record Examination). Turn to the book and specific articles to find Graduate Record Examination sample questions. This Cheat Sheet is a collection of tips for taking the GRE and key information that can help you score well on the test so that you can get into your graduate school and further your career goals.
What to Expect When You Take the GRE
The GRE is a computerized test taken at a local testing center. Other test-takers may also be there, working on the GRE or a different exam, but you'll be in a booth, immersed in your own test. The GRE lasts about four hours and challenges your stamina as well as your skills.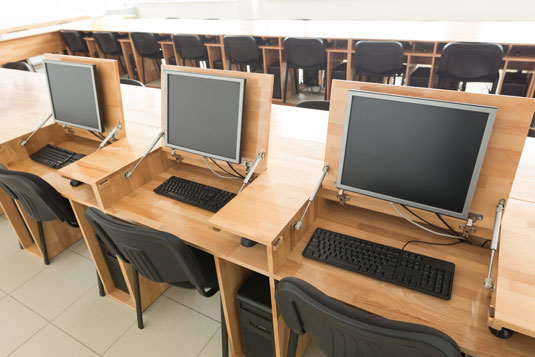 The following table outlines the sections of the GRE, including the number of questions and time limits of each. The essays are always first, but the other sections can be in any order.
| Section | Number of Questions | Time Allotted |
| --- | --- | --- |
| Analyze an Issue | 1 essay | 30 minutes |
| Analyze an Argument | 1 essay | 30 minutes |
| Verbal Reasoning | 20 questions | 30 minutes |
| Break | — | 10 minutes |
| Quantitative Reasoning | 20 questions | 35 minutes |
| Verbal Reasoning | 20 questions | 30 minutes |
| Quantitative Reasoning | 20 questions | 35 minutes |
| Unscored Verbal or Quantitative Reasoning | 20 questions | 30 or 35 minutes |
| Possible Unscored Research Section | 20 questions | 30 or 35 minutes |
| Total Testing Time | | About 4 hours |
What to Bring and Leave at Home on GRE Test Day
The GRE proctors are strict about the items you're allowed to bring into the testing center. Make sure you come prepared on test day by bringing all these things:
ETS authorization voucher: Bring the verification that says you've signed up for the exam on this day, at this time, at this location. If the testing center makes a mistake and loses your reservation, you need to show that you've actually reserved this time.

Comfortable clothes: Testing centers tend to crank up the A/C. The last thing you want is to be shivering during the exam. Wear two layers of long-sleeve clothing, and you can always remove one if you're warm.

Testing center address: Put the testing center address in your phone, or write it on a note or print it out so that you can grab it in the morning. You may also want to scope out the area ahead of time and find parking: Google Maps satellite view is great for this.

Photo ID: The GRE testing centers sport some tight security. You may not be allowed to take the test unless you can verify who you are.

Water and a snack: Your break is 10 minutes, some of which is spent checking back in when you return from the restroom. You don't have time to go grab something. Bring water and a snack so you can use your precious few minutes getting refreshed. Some testing centers give you access to your locker during your break, and some don't. But the proctors always tell you where you can leave your food and water.
The GRE proctors are also strict about the items you can't bring into the testing center. If you have any of these items with you, you'll be asked to keep them in your locker while taking the exam:
Books and study notes: You're not allowed to use books or notes, so why bring them? Leave them in your car or at home. One student almost had his scores cancelled because he took a text book out of his locker during his break. Fortunately, he didn't open the book, so he was allowed to keep his scores, which was good, because he had scored well.

Cellphone and wallet: Your cellphone and wallet stay in the locker while you're taking the GRE.

Calculator: If you bring a calculator, it too will stay in the locker. The GRE provides an on-screen calculator for the Quantitative Reasoning sections, so you don't need to bring one.

Your own scratch paper: The proctors will take away anything you bring and provide their own scratch paper for you to use.
Tips for Taking the Computerized GRE
Though www.ets.org alludes to your choice between the paper-based and the computer-based GRE, you'll almost certainly take the computer-based one. The paper-based exam is offered only where computer infrastructure isn't available. It's better this way, really; do you really want to hand-write your essay? Just remember these tips:
You can go back and forth through each section. Within a section, each question is worth the same. If you're stuck on a question, skip it! You can go back to it with the time remaining in the section.

Keep an eye on the clock. On the GRE, with 35 minutes per quantitative section and 30 minutes per verbal, it's easy to get distracted by your work and run out of time. Just remember that in each section, at 15 minutes, you should be roughly halfway through.

Practice using the software. Although the GRE For Dummies software provides excellent, targeted practice, it's still the Dummies mockup of GRE software, not the real thing. Practice GRE software is available for free from www.ets.org, and it perfectly mimics the actual exam, so you want to explore that and see how it works before the day of the exam.
Answering GRE Multiple-Choice Questions
Most questions on the GRE are multiple choice. Most require you to select the one best answer choice, but some require you to select two or more answers. The questions that require two or more answers are easy to spot because the answer choices have small check boxes (rather than ovals or words to select) and the directions say, "Pick two answers" or "Pick all applicable answers."
To help you select the correct answer(s), keep these tips in mind:
If you don't know the answer, rule out as many obviously incorrect choices as possible and guess from the remaining choices.

Don't spend more than 2 or 3 minutes on any one question. Guess an answer, mark the question for review, and come back to it at the end of the section. As long as you have time left in that section, you can revisit previous questions.

Guessing an answer is better than leaving the question unanswered. A wrong answer counts the same as no answer, so there's no harm in guessing. You may as well throw the mental dice and try to get it right—just mark it for review and come back to it later during that section.