GED Test Prep: Reasoning Through Language Arts Extended Response Questions
GED Test Prep: Reasoning Through Language Arts Extended Response Questions
In the Extended Response of the Reasoning Through Language Arts section of the GED, you get 45 minutes to write an essay. Note that the source material is longer than one screen. The tabs on the top of the left side indicate that this text is spread out over four pages.
Be sure to read all four pages with care. You'll have an erasable tablet to take notes and write drafts of your essay. Use it to make notes as you read.
The answer window is a mini word processor. You can see that it allows you to cut, paste, copy, do, and undo. However, it doesn't have either a grammar-checker or a spell-checker. Your brain with its experience and knowledge supplies those.
To copy, cut, paste, or save, you move the mouse cursor to the area of the screen with the symbols for performing these tasks, and then you click on a mouse button to activate the feature (or you can use the standard keyboard shortcuts for cut and paste). You'll use this feature primarily if you want to quote something in your essay.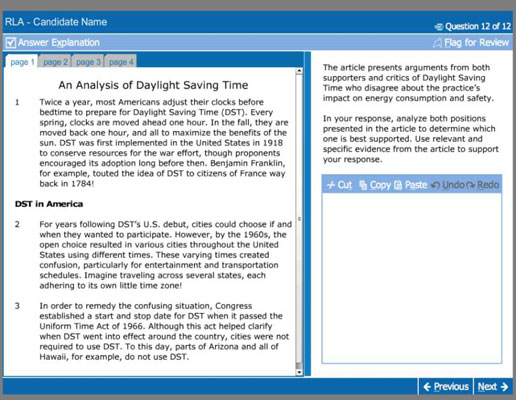 Take a stab at writing a full-length essay to prepare for the exam. Time the test so you're taking it under the same conditions as the real GED test.