GED
Practice questions for all the GED subjects, plus tips to test smart and de-stress. Repeat after me: "I got my GED!"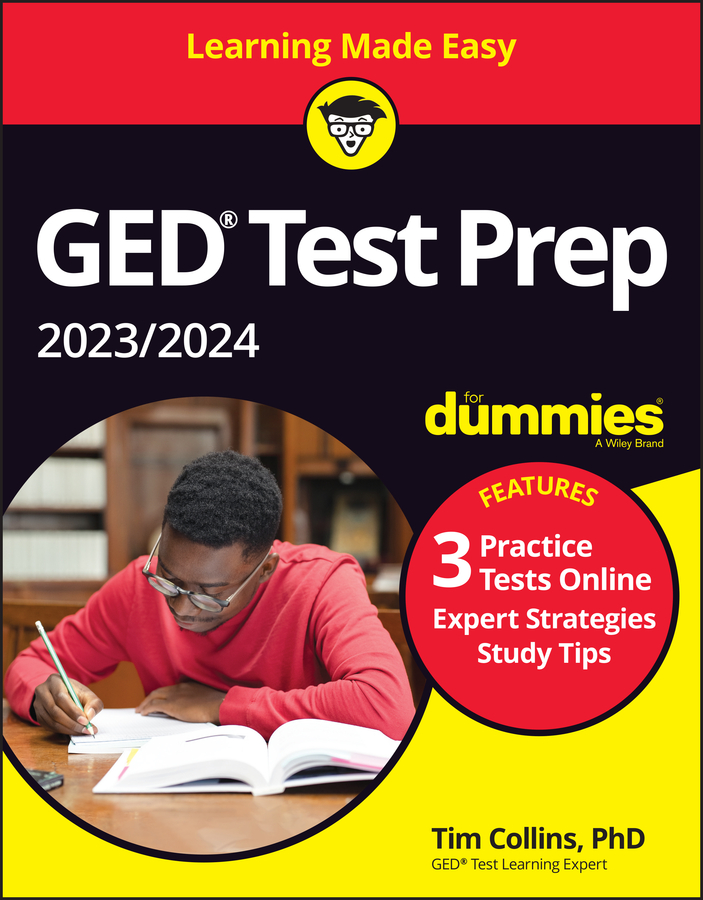 GED
GED Test Prep 2023/2024 For Dummies with Online Practice
Your secret weapon to succeeding on the GED test the first time around Congratulations on committing to your education! You've studied hard and made it a long way. All that stands in your way now is the GED test. We know you can do it. You know you can do it. It's just a matter of studying hard, studying smart, and getting in the right mindset to conquer the test once and for all. In GED Test 2023/2024 For Dummies, you'll find all the content review and practice you need to perfect your grammar and punctuation, take the fear out of math and science, and master social studies. You'll get a handle on your test anxiety, practice the parts where you need extra work, and prepare with two full-length practice exams. You'll also find: Brand-new practice problems updated for the latest version of the test in the book and online Refreshed information about testing procedures and mechanics Tips and tricks to help you improve the efficiency of your studying and thorough coverage of updates to the test made for 2023-2024Yes, the GED test is challenging. But with the right preparation and resources you can go into the test confident in your ability to ace every one of the math, language arts, science, and social studies sections.
Explore Book
Buy On Amazon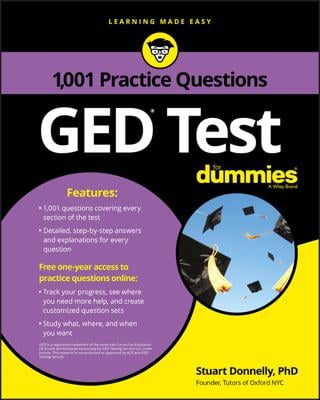 GED
GED Test
1,001 practice opportunities for passing the GED test Ready to take the GED test? Get a head start on a high score with 1,001 GED Test Practice Questions For Dummies. Inside, you'll find 1,001 practice questions on all four sections of the GED test: Mathematical Reasoning, Science, Social Studies, and Reading & Language Arts. All of the question types and formats you'll encounter on the exam are here, so you can study, practice, and increase your chances of scoring higher on the big day. Earning a passing score on the GED test will boost your self-esteem, enable you to continue your education, and qualify you for better-paying jobs—it's a win-win! If you're preparing for this important exam, there are 1,001 opportunities in this guide to roll up your sleeves, put your nose to the grindstone, and get the confidence to perform your very best. Includes free, one-year access to practice questions online Offers 1,001 GED test practice questions—from easy to hard Lets you track your progress, see where you need more help, and create customized question sets Provides detailed, step-by-step answers and explanations for every question Study with the book or study online—or do a little of both—and get ready to pass the GED test with flying colors!
Explore Book
Buy On Amazon
GED
GED Mathematical Reasoning Test For Dummies
Gear up to crush the GED Mathematical Test Does the thought of taking the GED Mathematical Reasoning Test make you weak? Fear not! With the help of GED Mathematical Reasoning Test For Dummies, you'll get up to speed on the new structure and computer-based format of the GED and gain the confidence and know-how to make the Mathematical Reasoning Test your minion. Packed with helpful guidance and instruction, this hands-on test-prep guide covers the concepts covered on the GED Mathematical Reasoning Test and gives you ample practice opportunities to assess your understanding of number operations/number sense, measurement and geometry, data, statistics, and probability, and algebra, functions, and patterns. Now a grueling 115 minutes long, the new Mathematical Reasoning section of the GED includes multiple choice, fill-in-the-blank, hot-spot, drop-down, and drag-and-drop questions—which can prove to be quite intimidating for the uninitiated. Luckily, this fun and accessible guide breaks down each section of the exam and the types of questions you'll encounter into easily digestible parts, making everything you'll come across on exam day feel like a breeze! Inside, you'll find methods to sharpen your math skills, tips on how to approach GED Mathematical Reasoning question types and formats, practice questions and study exercises, and a full-length practice test to help you pinpoint where you need more study help. Presents reviews of the GED Mathematical Reasoning test question types and basic computer skills Offers practice questions assessing work-place related and academic-based math skills Includes one full-length GED Mathematical Reasoning practice test Provides scoring guidelines and detailed answer explanations Even if math has always made you mad, GED Mathematical Reasoning Test For Dummies makes it easy to pass this crucial exam and obtain your hard-earned graduate equivalency diploma.
Explore Book
Buy On Amazon