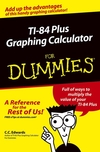 TI-84 Plus Graphing Calculator For Dummies
ISBN: 978-0-7645-7140-4
Paperback
288 pages
June 2004
This title is out-of-print and not currently available for purchase from this site.
Introduction.
Part I: Making Friends with the Calculator.
Chapter 1: Coping with the Basics.
Chapter 2: Doing Basic Arithmetic.
Chapter 3: The Math and Angle Menus.
Chapter 4: Solving Equations.
Part II: Doing Geometry.
Chapter 5: Using GeoMaster.
Chapter 6: Constructing Geometric Figures.
Chapter 7: Finding Measurements.
Chapter 8: Performing Transformations.
Part III: Graphing and Analyzing Functions.
Chapter 9: Graphing Functions.
Chapter 10: Exploring Functions.
Chapter 11: Evaluating Functions.
Chapter 12: Graphing Transformations.
Chapter 13: Graphing Inequalities.
Part IV: Probability and Statistics.
Chapter 14: Probability.
Chapter 15: Simulating Probabilities.
Chapter 16: Dealing with Statistical Data.
Chapter 17: Analyzing Statistical Data.
Part V: Communicating with PCs and Other Calculators.
Chapter 18: Communicating with a PC Using TI Connect™.
Chapter 19: Communicating Between Calculators.
Part VI: The Part of Tens.
Chapter 20: Eight Topics That Didn't Make the Book.
Chapter 21: Ten Great Applications.
Chapter 22: Eight Common Errors.
Chapter 23: Eleven Common Error Messages.
Appendix A: Creating and Editing Matrices.
Appendix B: Using Matrices.
Index.