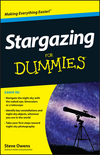 Stargazing For Dummies
ISBN: 978-1-118-41156-8
Paperback
352 pages
March 2013
US $14.99

Add to Cart
Do you think you've discovered an error in this book? Please check the list of errata below to see if we've already addressed the error. If not, please submit the error via our Errata Form. We will attempt to verify your error; if you're right, we will post a correction below.
Chapter
Page
Details
Date
Print Run
5
Online appendices noted in error
On page 5 of the introduction, under Appendixes, it is noted that four appendices are available online at www.dummies.com/go/stargazingfd. This is an error and there are no appendices available online.