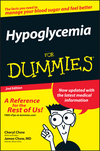 Hypoglycemia For Dummies, 2nd Edition
ISBN: 978-0-470-12170-2
Paperback
288 pages
March 2007
US $19.99

Add to Cart
Introduction.
Part I: Addressing Your Ups and Downs: Could This Be Hypoglycemia?
Chapter 1: Riding the Blood Sugar Roller Coaster Isn't Any Fun.
Chapter 2: Digesting Hypoglycemia: Your Body's Role.
Chapter 3: Symptoms without a Cause.
Part II: Diagnosing and Treating Your Hypoglycemia.
Chapter 4: Matching Up with the Right Doc.
Chapter 5: Getting the Lowdown on Low Blood Sugar.
Chapter 6: Gorging on Good Health.
Chapter 7: Hanging with Herb and His Buddies.
Vitamin and Supplement.
Part III: Emulating Lifestyles of the Well and Healthy.
Chapter 8: Easing Symptoms and Energizing with Exercise.
Chapter 9: All Stressed Out and Nowhere to Go.
Chapter 10: Defanging the Depression Demons.
Chapter 11: Making It through Your Day at Work.
Part IV: Spinning a Network of Support for Yourself (and Others).
Chapter 12: Jockeying for Support.
Chapter 13: Dealing with Friends and Family: Eat and Let Eat.
Chapter 14: Suffering Along with Your Sweetie?.
Part V: The Part of Tens.
Chapter 15: Ten Myths about Hypoglycemia.
Chapter 16: Ten Hints for Helping Hypoglycemics.
Index.