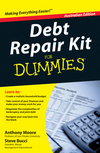 Debt Repair Kit For Dummies®, Australian Edition
ISBN: 978-1-74216-941-5
Paperback
240 pages
May 2010
This title is out-of-print and not currently available for purchase from this site.
Introduction.
Part I: Taking Stock of Your Credit Situation.
Chapter 1 : The Lowdown on Credit Essentials: Just What You Need to Know.
Chapter 2 : Credit Pleasure and Pain.
Chapter 3 : Understanding the Laws Governing Your Credit Contract.
Chapter 4 : Yours, Mine and Ours: Involving Others in Your Finances.
Part II: Landmarks of the Credit System.
Chapter 5 : Discovering Your Credit Standing.
Chapter 6 : Dealing with Identity Theft.
Chapter 7 : Your Right to Privacy and Consumer Protection.
Part III: Getting Through Tough Times.
Chapter 8 : Dealing With Debt Payment Demands.
Chapter 9 : Risking Your Home and Possessions.
Chapter 10 : Protecting Yourself When You Can't Pay.
Chapter 11 : Coping Financially at Life's Crossroads.
Part IV: Taking Control of Your Finances.
Chapter 12 : Who Can You Turn To?
Chapter 13 : Reorganising Your Debts and Credits.
Chapter 14 : Budgeting for Your Future.
Part V: The Part of Tens.
Chapter 15 : Ten Tips to Avoid Identity Theft or Reduce Its Damage.
Chapter 16 : Ten Ways to Keep Your Home from a Mortgagee Sale.
Chapter 17 : Ten Ways to Make Your Credit the Best It Can Be.
Chapter 18 : Ten Ways to Successfully Manage Financial Emergencies.
Appendix A: Glossary.
Appendix B: About the Website.
Index.