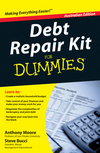 Debt Repair Kit For Dummies®, Australian Edition
ISBN: 978-1-74216-941-5
Paperback
240 pages
May 2010
This title is out-of-print and not currently available for purchase from this site.
Anthony Moore
has been a consumer advocate for the past 30 years as president and currently as secretary of the Consumers Association of South Australia. He has been the South Australian representative on the former Australian Federation of Consumer Organisations and is a consumer representative on the Energy Consumers' Council of South Australia.
Anthony was a member of the standing consumer advocacy committee on the implementation of the uniform consumer credit code. Consumer advocacy has included representations to governments on consumer reforms, promoting public awareness of consumer rights and responsibilities, conducting research into consumer attitudes and behaviour, and making media presentations on these issues.
During the 30 years that he's been a consumer advocate, Anthony has taught consumer law at the law schools of the University of Adelaide and Flinders University and has written many articles on consumer issues. Anthony is a former dean of the Flinders University Law School and a Fulbright Fellow. He is currently an Adjunct Associate Professor of Law at Flinders University and Honorary Life Member and Honorary Fellow of Lincoln College. For almost 20 years, he was a tribunal member of the South Australian Residential Tenancies Tribunal, and he was a consultant to the Australian Law Reform Commission for its inquiries into class actions and consumer debtors.
Anthony has published extensively in relation to consumer credit, real property law and commercial and residential tenancies. He has co-authored a number of books, including a text on Australian real property law, books on contract and credit law, commercial and residential tenancies, and a history of Lincoln College. Anthony is the editor of the 'Real Property' title for the Laws of Australia series.
Steve Bucci is president of the Houston, Texas-based Money Management International Financial Education Foundation, a non-profit organisation that operates to educate the general public on sound personal financial skills and money management principles by partnering with national organisations that develop, deliver and support programs that teach those skills and principles. The organisation also sponsors research projects on personal financial issues of national importance.
Steve writes a popular weekly column as the Debt Advisor for the financial mega-site Bankrate.com. His column is featured frequently on America Online, Yahoo! Personal Finance and other websites. The Scripps-Howard newspaper syndicate distributes his column nationally. He is a regular contributor to the Comcast Cable program Your Morning Show.
Steve was formerly president of Consumer Credit Counseling Service of Southern New England, and he founded the Consumer Credit Counseling Service of Rhode Island and the University of Rhode Island Center for Personal Financial Education.
He began his career in counselling at the Yale Psychiatric Institute before switching to management consulting and then developing both publicly and privately offered investment products in the insurance and financial services industries. Steve returned to helping individuals in 1991, this time using his financial and management experience when he launched Rhode Island's first private, non-profit, financial counselling agency.
Steve has served as director of the CDNE Education Foundation, the National Foundation for Credit Counseling, and the Better Business Bureau of Rhode Island, National Network Non-Profit Services. He was named Visiting Executive in Residence at the University of Rhode Island and is a member of the Jump$tart Coalition for Financial Literacy and the American Savings and Education Council.