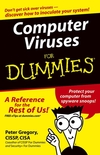 Computer Viruses For Dummies
ISBN: 978-0-7645-7418-4
Paperback
292 pages
August 2004
US $17.99

Add to Cart
Introduction.
Part I: Evaluating Your Virus Situation.
Chapter 1: Understanding Virus Risks.
Chapter 2: Does My Computer Have a Virus?
Chapter 3: Does Your Computer Have Antivirus Software?
Part II: Deploying Your Antivirus Defenses.
Chapter 4: Obtaining and Installing Antivirus Software.
Chapter 5: Configuring Antivirus Software.
Chapter 6: Scanning Your Computer and E-Mail.
Chapter 7: Ridding Your Computer of Viruses.
Part III: Maintaining Your Vigilance.
Chapter 8: Updating Antivirus Software and Signatures.
Chapter 9: Installing Security Patches.
Chapter 10: Using Firewalls and Spyware Blockers.
Chapter 11: Protecting PDAs from Viruses.
Chapter 12: Incorporating Safe Computing Practices.
Part IV: Looking at Viruses under the Microscope.
Chapter 13: Viruses and the Losers Who Write Them.
Chapter 14: Trojan Horses, Worms, Spam, and Hoaxes.
Chapter 15: How Viruses Function and Propagate.
Part V: The Part of Tens.
Chapter 16: Almost Ten Myths about Computer Viruses.
Chapter 17: Ten Antivirus Programs.
Index.