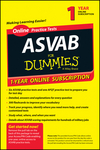 ASVAB For Dummies (1-Year Online Subscription)
ISBN: 978-1-118-63804-0
Digital Content
2 pages
April 2013
This title is out-of-print and not currently available for purchase from this site.
Sharpen your test-taking skills, score higher on the ASVAB, and qualify for the military job you want

Want to ace the ASVAB?  Your one-year subscription to ASVAB For Dummies Online offers seven test-taking opportunities to help you hone your skills and build your confidence. Once you subscribe you'll have access wherever and whenever to one AFQT practice test, to assess enlistment eligibility, and six full-length ASVAB practice tests covering all nine test subjects—just like on exam day. Every practice question includes not only an answer but a detailed explanation.

With on-the-go access you can study anywhere and any way you want—from your computer, smart phone or tablet. After taking each test you can track your progress, see where you need to study the most, and then create customized tests to get you where you need to be.

A one-year subscription includes:


Access to one AFQT practice test and six full-length ASBAB practice tests
300 flashcards to improve help you improve your vocabulary
Tools to identify areas for further study and create customized practice tests
Whether you're a new recruit or already in the military and want to advance your career, ASVAB For Dummies Online, provides the practice you need to increase your score and your confidence on test day.