Upload Multiple Documents with Internet Explorer and SharePoint
Upload Multiple Documents with Internet Explorer and SharePoint
SharePoint 2010 allows you to select multiple documents and upload them all at once. This approach saves you time; however, you can't batch-upload for properties. So even though you save time uploading the files, you still have to manually edit the properties on each file.
Do the following to upload multiple documents to the same document library with Internet Explorer.
1

Browse to the document library where you want to upload your files.

For example, click the Shared Documents link in the left navigation pane to go to that document library.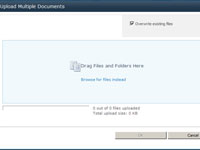 2

Click the down arrow on the Upload Document button on the Documents tab of the Ribbon and choose Upload Multiple Documents.

The Upload Multiple Documents window appears.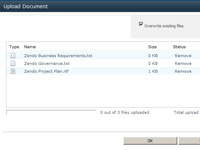 3

Drag and drop files from your file system into the Upload Multiple Documents window.

Alternatively, click Browse For Files Instead to browse for the files you wish to upload.

The files appear in the SharePoint Upload Document window.
4

Click OK to upload the files to the document library.

The Upload Document window presents an upload progress bar while the files upload and then a message indicating your files were uploaded.
5

Click Done to return to the document library.

An icon with the word New appears in the document library next to the name of each of the files you just uploaded. By default, this icon appears on all newly uploaded files for a period of three days.