Upload and Activate a SharePoint 2010 Solution
Upload and Activate a SharePoint 2010 Solution
After you use Visual Studio to create a package solution for your SharePoint 2010 site, the package file is in the BIN directory. You can give this file to your IT staff for deployment into a test environment, or you can upload it into the Solution gallery by following these steps:
1

Browse to the site collection where you want to upload the solution.

Use a test environment until your solution is thoroughly tested.
2

Choose Site Actions→Site Settings.

The Site Settings page appears.
3

On the Site Settings page, click the Solutions link in the Gallery section and then on the Solutions tab in the Ribbon, click the Upload Solution button.

The Upload Solution dialog box appears.
4

Upload your solution file to the gallery using the Upload Solution dialog box.

The Activate Solution window appears.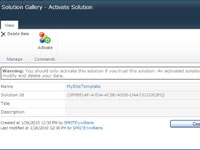 5

Click the Activate button on the Ribbon to activate your solution in the site.

SharePoint activates the solution so that it can be used in the site.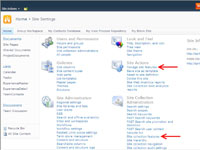 6

Activate features in the Site Settings page with the Manage Site Features link (for site-level features) or the Site Collection Features link (for site collection features).

After you upload your solution, you need to activate any features that are in your solution. Remember that your assets are organized into features.