Open a SharePoint 2010 Page Layout for Editing
Open a SharePoint 2010 Page Layout for Editing
Have you ever wondered what's going on behind the scenes in SharePoint 2010? Cracking open a page layout is one of the easiest ways to do that. Start by opening one of the standard SharePoint page layouts in SharePoint Designer 2010:
1

Open SharePoint Designer 2010 and then click the Open Site button and type (or paste) in the web address to your publishing site.

You must access a site created using the Publishing site template to work with page layouts.
2

In the navigation pane, click the Page Layouts button.

A list of the page layouts in your site appears.
3

Click the Blank Web Part Page layout file.

A summary of the file appears, which shows the file's versioning status and permissions as well as provides links to customize the file.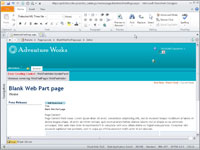 5

When prompted to check out the file, click No.

Because you're just browsing, don't check out the file. The file opens in Design view for your viewing pleasure.