How to Enter Data in SharePoint 2010 Lists
How to Enter Data in SharePoint 2010 Lists
Some primary tasks you perform in SharePoint 2010 are entering, editing, and viewing your data in a SharePoint list. The kind of list you're using doesn't matter; the steps for performing the tasks are the same.
You must have the Add Items, Edit Items, and View Items permissions. These permissions are usually granted with the Contributor permissions level, which is usually granted via the Site Members SharePoint group.
Follow these steps to add, edit, or view list data, such as a Tasks list in your SharePoint 2010 team site:
1

Browse to your Tasks lists.

You can either click the Tasks link in the left navigation pane of the team site or enter the web address in the browser.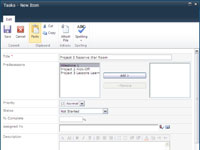 2

In the Ribbon, click the Items tab, and then click the New Item button to add a new item to the list.

The New Item form appears in a dialog box.
3

Click the Save button to add your item to the list.

The item appears in the list.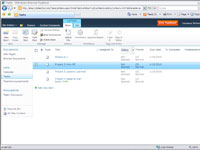 4

To select an item in the list to edit or view, select the check box for the row you wish to edit or view.

The row is highlighted.
5

To edit the item, click the Edit Item button in the Items tab of the Ribbon.

The Edit Item window appears. Make your changes to the item in the window and click the Save button. The updates are saved to the list.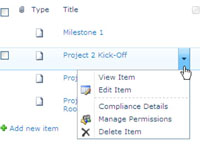 6

To view an item in the list, select the row you wish to view and click the View Item button.

The Display Form window allows you to view the values for a list, but also access additional commands for working with the list item.

You can also use the edit menu to edit a list item. The additional menu items allow you to manage permissions, set alerts, or check compliance policies on the item you're viewing.

You can also edit list items using an inline form, which makes it easy to edit items without opening each item individually.