How to Changing Your SharePoint 2010 Site Icon
How to Changing Your SharePoint 2010 Site Icon
SharePoint team sites contain a site icon in the upper left. The default image in a collaboration team site looks like four colorful figures representing the team. SharePoint has a setting that allows you to change this image. Microsoft has given helpful guidelines in the instructions and suggests a 60-x-60-pixel size.
Remember text is to the right of the image, so watch the length of your logo. If your icon is too tall, the header area becomes tall as well and distorts the look and feel.
To change the site icon:
1

Upload your image to a document or picture library.

You may want to upload the image to the Site Assets library or create a new picture library to contain the image. The benefit of the picture library is that you can edit the image (including size) while in SharePoint because picture libraries have photo-editing capabilities that document libraries don't.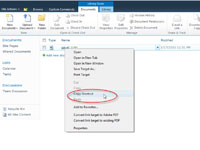 2

Copy the URL of the image location before you navigate to Site Settings page.

Some image link options allow you to browse for your image, but the site icon option doesn't, so you need to copy that URL before you can update the site icon.

One of the easiest ways to capture the URL is to right-click the link of the image in a library and choose Copy Shortcut from the contextual menu. If you won't use the URL immediately, you may want to paste it in a text file, such as Notepad, to use later.
3

Choose Site Actions→Site Settings.

The Site Settings page appears.
4

Click the Title, Description, and Icon link in the Look and Feel section.

The icon URL and description is the second options group.

Paste the URL you have copied into the URL field. You can use the Click Here to Test Link link to make sure that the URL correctly displays the image.
5

Add a description for your icon in the Logo URL and Description section.

The description you type under the icon URL becomes the alternate text for the image. Keep this description short, such as Six Sigma Icon.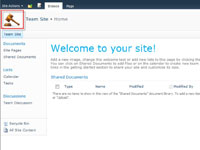 6

Click OK to commit your changes.

You see your new icon in the header area.

You may want to copy the URL of the original icon if you ever consider changing back. If not, you can always navigate to a site with the original icon and copy the URL to replace it on your site.

A warning concerning using a relative URL for the site icon is geared toward your IT professionals. This warning reminds them that if the organization has multiple web servers, the image needs to be copied to the same folder in each.