Edit a Wiki Page in SharePoint 2010
Edit a Wiki Page in SharePoint 2010
When you first create a wiki page in SharePoint 2010, you're in Edit mode. Wikis are specifically collaborative efforts: information is added to, and maintained by, a network of users. Perhaps the most well-known wiki is Wikipedia, a web encyclopedia of information about any topic imaginable, editable by anyone in the Wikipedia community.
A wiki is a very flexible and democratic way for individuals to work together to share, refine, and collect information.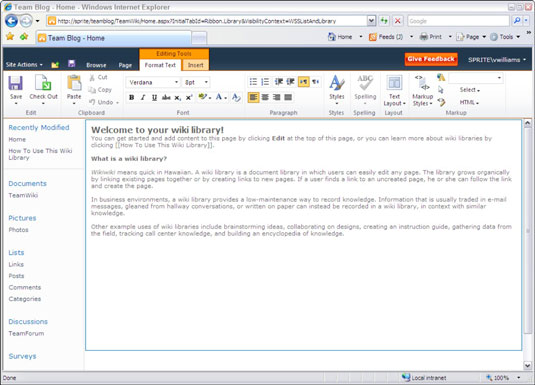 When you want to edit a page you've created:
Access the page from the Quick Launch menu or Wiki Library Page list.

Click the Edit tab on the Ribbon and then click the Edit button.
Like other documents, check out the page if you don't want others to be able to edit at the same time and perhaps overwrite your work.
Editing a wiki page is very easy, like working in a word processor. You can type or copy text, indent, make bullets, bold and italicize words, and insert all other types of content such as tables and images. To stop editing, click the Stop Editing button on the Edit tab of the Ribbon. You need to check in your wiki as a separate step if you checked it out.
You can also define your page layout. By default, page layout is one column (full-page wide), but you can change the layout by choosing one you like from the Text Layout drop-down list on the Format Text tab. (Note: You must be in Edit mode to see the Format Text tab.) Now you may have multiple text containers to work with.
You can switch layouts at any point. But be careful — if you switch to a layout with fewer containers than your current layout, SharePoint combines content in one container with content in another. You won't lose the content, but you'll probably have to make some edits to fix the combined content.
Changing the text layout of a wiki page isn't the same as changing the layout on a Web Part page or the page layout on a publishing page. Wiki pages, Web Part pages, and publishing pages all behave slightly differently and have different purposes. By the way, if you can articulate the difference between these three kinds of SharePoint pages, then you should consider a career as a SharePoint consultant.