Display RSS Feeds of Other Sites with SharePoint 2010
Display RSS Feeds of Other Sites with SharePoint 2010
SharePoint 2010 includes an RSS Viewer Web Part that allows you to display RSS feeds from SharePoint lists and libraries and public websites in your team site. To use this Web Part, do the following:
1

Browse to the page where you want to add the RSS feed, click the Page tab on the Ribbon, and then click the Edit button.

The page is in edit mode.
2

Click the Add a Web Part button in the zone where you want the Web Part to appear.

The Insert tab appears on the Ribbon.
3

In the Categories section of the Insert tab, click the Content Rollup category.

A list of Web Parts appears.
4

Click the RSS Viewer Web Part.

A description of the Web Part appears.

The SharePoint Server Standard Site Collection Features must be activated to see the RSS Viewer Web Part. If you don't see the Web Part, activate this feature.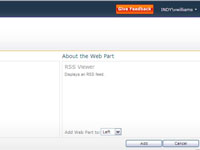 5

Click the Add button to add the Web Part to the page.

The Web Part appears on the page awaiting configuration.

To complete the configuration of the Web Part, you need to have the web address or URL for a feed you want to display in the Web Part.
6

With your Web Part on the page, place a check mark in the upper-right corner of the Web Part.

Use the CNN Top Stories RSS feed web address for the rest of these steps.
7

Click the Web Part Tools Options tab in the Ribbon; then click the Web Part Properties button.

The Web Part's properties appear as a tool pane on the right side of the screen.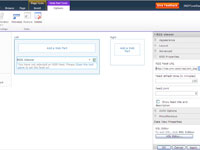 8

In the RSS Properties tab of the tool pane, enter the web address of the RSS feed you want to display in the RSS Feed URL text box.

Enter any RSS feed web address; for this example, use the CNN.com address shown.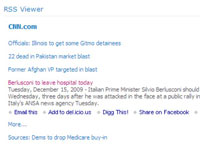 9

Click OK, and your feed appears in the web page.

You can click a headline in your Web Part to display the item's details. You can also click the More link to open the items from the RSS feed.

You can modify the default XSLT (Extensible Stylesheet Transformations) template that the RSS Viewer Web Part uses if you want to change the output display. The XSL template can be accessed from the Web Part's properties pane.

For example, you can change the template so that the headline links to the article instead of displaying the item's details. You can use any XSLT programming or text editor to modify the XSL template, including SharePoint Designer 2010.