Create New Lists in Your SharePoint 2010 Team Site
Create New Lists in Your SharePoint 2010 Team Site
Although a SharePoint 2010 team site has a few lists created for you — Announcements, Tasks, and Discussion Board — you usually want to create your own list to match the needs of your team.
To create a new list in your team site, you need to have the Manage Lists permission. This permission is usually granted with the Hierarchy Managers SharePoint group. Regardless of the kind of list you want to create, the steps are the same. These steps are the same for creating new libraries also. To create a new list in your SharePoint 2010 team site, follow these steps: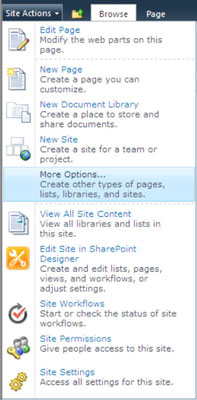 1

In your SharePoint site, choose Site Actions→More Options.

The Create page appears.

You can also access the Create page by clicking the Create button from the View All Site Content page.

The figure shows the Site Actions menu that is typically seen in a team site. Other kinds of SharePoint sites will have different menu options.
2

On the Create page, click the List link in the Filter By section.

A list of icons appears for each kind of list you can create in SharePoint. Click a list category to further filter to display.
3

Click the icon for the kind of list you want to create.

For example, click the Announcements icon to create a new list to store announcements.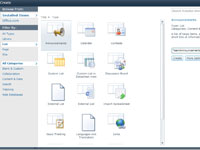 4

Type a name for your list in the text box that appears.

Create your list names without any spaces. The list name is used as part of the web address. You can change the list name to a friendlier name after the list is created.
5

Click the Create button.

SharePoint creates the list and displays it in the browser.