Create a SharePoint 2010 Site Solution in Visual Studio
Create a SharePoint 2010 Site Solution in Visual Studio
Use Visual Studio 2010 to package your files into a solution for your SharePoint 2010 site. Visual Studio 2010 has a set of tools that make it relatively easy to package your solution. The following steps walk you through, at a very high level, the process to create a solution:
1

With the browser and SharePoint Designer 2010, create the assets that you want to package.

For example, you might create lists, content types, page layouts, and style sheets.

Create a site template of your site.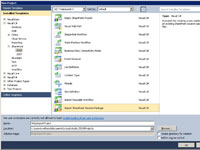 2

In Visual Studio 2010, create a new project and use the SharePoint project template to import your template as a solution.

The Import wizard appears.
3

With the Import wizard, select the items you want to include in your solution.

Visual Studio imports the items you select.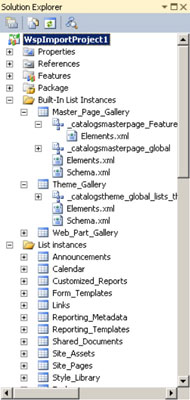 4

Use the Solution Explorer to explore the imported items.

You can make changes to the configuration and asset files as necessary. Please see SharePoint's software development kit (SDK) for more details on working with features.

You can use Visual Studio to check your files into a source control system, such as Team Foundation Server.
5

To build your new package, choose Build→Package in Visual Studio 2010.

Visual Studio packages your files into a new solution. This package file is located in the BIN directory of your project.