Create a New Wiki Content Page in SharePoint 2010
Create a New Wiki Content Page in SharePoint 2010
If you want additional pages in your site that look and function like the home page, create a new Wiki Content page in SharePoint 2010. Creating a page of this type is slightly different than creating other content. You can create a new page by choosing Site Actions→New Page, creating a Forward link in a wiki page, or selecting the New Document command in the wiki library.
To create a new Wiki Content page using the New Page option, follow these steps:
Choose Site Actions→New Page.

This creates a Wiki Content page only, not a Web Part page.

A dialog box appears asking for the name of your new page and informing you that it'll be created in the Site Pages library.

Type the name for your page and click the Create button.

Type a single word that's a meaningful name and use the text editors to type any title or other text in the page to communicate its purpose. The name for your page will be part of the page's URL.

Your new page is created and placed in Edit mode. You see other recently modified pages in this wiki library via links on the lower left of the Quick Launch pane.
By default, the page is a single column, but you can change the page's layout to include more columns by clicking the Text Layout button on the Format Text tab of the Ribbon.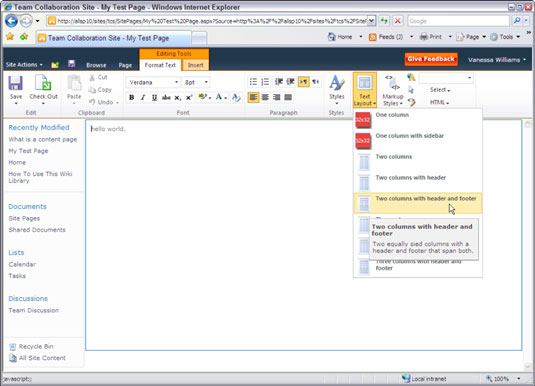 Every wiki library is created with a How to Use This Wiki Library page. After you have experience working with wiki libraries, you can choose to delete this page; however, it contains many helpful instructions and tips on working with the wiki functionality.
Your wiki pages are stored in the Site Pages library. You can browse to the Site Pages library using the left navigation pane or by choosing Site Actions→View All Site Content.