Add Content to Pages via SharePoint 2010's Publishing Site
Add Content to Pages via SharePoint 2010's Publishing Site
Most page layouts available on SharePoint 2010's publishing site include a multiline text box you can use for entering lots of different kinds of content. This text box includes plenty of formatting options and commands for inserting images and videos.
Depending on the page layout you're using, your page may have several more containers for adding content. Some of these containers may be specialized; for example, just for adding an image or a hyperlink.
To add content to your page, follow these steps:
1

Place your cursor inside the page's text box.

This text box is often called Page Content, but it may be named differently depending on the page layout you're using.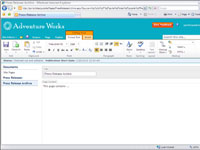 2

Enter your text into the page, applying formatting as desired.

The Ribbon displays several formatting options you can use for formatting your text. These options can be disabled, so your Ribbon may look different from the one you see here.

When your branding is properly implemented, you don't have to apply formatting to content. For example, you can enter a bulleted list, and it formats automatically in a consistent way with the site's branding.
3

To view the HTML mode for the content, click the Edit HTML Source button in the Markup group on the Format Text tab of the Ribbon.

The HTML Source appears in a separate window. You can use this option if you want to copy and paste HTML markup into the page.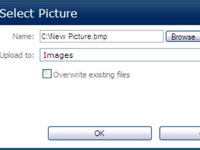 4

Use the buttons on the Insert tab to insert other kinds of content into your page, such as tables, images, videos, links, and Web Parts.

You don't have to upload your images and videos before inserting them. The insert process prompts you to upload your image or video to the site.

If you have content you want to give users to use on pages, consider adding it as reusable content. You just enter your content in the Reusable Content list in the root of your site. A user can insert the content into his page. Common uses for reusable content include privacy statements and copyright information.