How to Format a PowerPoint 2007 Text Frame To Hold Normal Paragraphs
How to Format a PowerPoint 2007 Text Frame To Hold Normal Paragraphs
Most PowerPoint text frames are designed to hold bulleted lists. When you click to add text in a PowerPoint text frame, your text becomes the first item in a bulleted list. When you press the Enter key to move to the next line, PowerPoint places another bullet character. Select your list and follow these steps to turn a bulleted or numbered list into normal, un-indented paragraphs: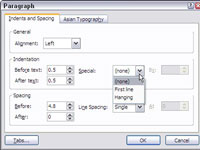 2

On the ruler drag the Subsequent Line marker to the left so that it lines up with the First-Line Indent marker.

To display the ruler, click the View tab and then click the Ruler check box.