Change Views in PowerPoint 2007
Change Views in PowerPoint 2007
PowerPoint has several views. Depending on the task at hand, some PowerPoint views are better than others when designing and editing PowerPoint slides and presentations. PowerPoint offers two places to change the view the View buttons on the Status bar and The Ribbons View tab.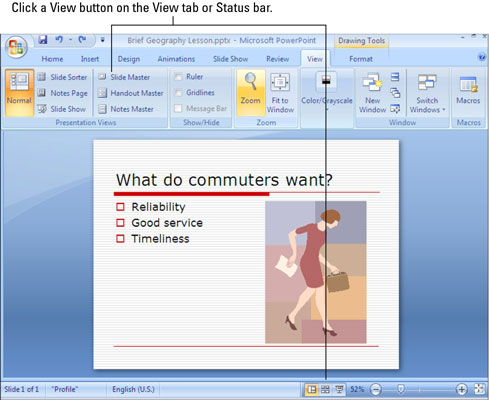 Normal/Outline view: Click the Normal button in the Status bar or click the Normal button on the View tab. Select the Outline tab in the Slides pane to enter or read text.

Normal/Slides view: Thumbnail slides appear in the Slides pane. Scroll to and select a slide to make it appear on-screen. Press the Home key to select the first slide or the End key to select the last one, or click the Previous Slide or Next Slide buttons to go from slide to slide.

Slide Sorter view: Slide Sorter view shows thumbnails of all slides in the presentation.

Slide Show view: Slide Show view displays fills the entire screen with your slide. To advance from slide to slide, click the screen. To quit Slide Show view, right-click and choose End Show.

Notes Page view: Click the View tab and click the Notes Page button to create or read your notes. To get from page to page, drag the scrollbar.

Pure Black and White and Grayscale views: To switch to Pure Black and White or Grayscale view, click the View tab and then click the Grayscale or Pure Black and White button. The slides' appearances on your computer monitor changes.

The Master views: Visit the View tab and click the appropriate button to work with handle master styles, formatting commands for all slides (Slide Master view), printed handouts (Handout Master view), and the notes (Notes Master view).