How to Insert a Link to Send an E-mail in an Excel 2007 Workbook
How to Insert a Link to Send an E-mail in an Excel 2007 Workbook
You can insert a "mailto" hyperlink in Excel 2007 that anyone can click to create an e-mail to a specific address. The hyperlink can appear in a worksheet cell, or it can be associated with a graphic object, such as a shape or clip art object.
Follow these steps to insert a hyperlink in a worksheet:
1

Select a cell or graphic to which you want to attach a hyperlink.

You can assign the same hyperlink to multiple selected cells.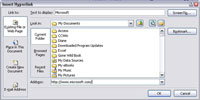 2

Click the Hyperlink button in the Links group on the Insert tab (or press Ctrl+K).

The Insert Hyperlink dialog box appears.
3

If you clicked a blank cell in Step 1, you can type the text you want the cell to display in the Text to Display box.

If you started with a cell that already contained data, you can change the displayed text. If you selected multiple cells, only the data in the first cell will be changed.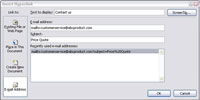 4

On the left, click the E-mail Address button.

The dialog box changes to give you options specific to e-mail addresses.
5

Select or enter an e-mail address.

You can either type the e-mail address or select one from the Recently Used E-mail Addresses list. Excel adds mailto: to the beginning of the address you type.
6

Enter a subject in the Subject box.

What you type here will automatically appear in the Subject line of the e-mail. It could also be left blank.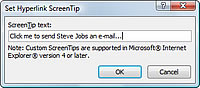 7

(Optional) Click the ScreenTip button to the right of the Text to Display box to enter ScreenTip text.

The ScreenTip text will appear when a user hovers the mouse cursor over the hyperlink.
8

Click OK.

If you started with values in a cell, those values will appear underlined and in blue, indicating an active hyperlink.