How to Insert a Hyperlink to a File or Web Site in Excel 2007
How to Insert a Hyperlink to a File or Web Site in Excel 2007
You can insert a hyperlink in Excel 2007 that anyone can click to jump to Web sites or open other files. The hyperlink can appear in a worksheet cell, or it can be associated with a graphic object, such as a shape or clip art object.
Follow these steps to insert a hyperlink in a worksheet:
1

Select a cell or graphic to which you want to attach a hyperlink.

You can assign the same hyperlink to multiple selected cells.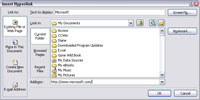 2

Click the Hyperlink button in the Links group on the Insert tab (or press Ctrl+K).

The Insert Hyperlink dialog box appears.
3

If you clicked a blank cell in Step 1, you can type the text you want the cell to display in the Text to Display box.

If you started with a cell that already contained data, you can change the displayed text. If you selected multiple cells, only the data in the first cell will be changed.
4

On the left, click the Existing File or Web Page button.

The dialog box changes to give you options specific to Web pages and files.
5

Select or enter the hyperlink's destination.

Use the tools in the central section of the dialog box to find the file or Web site you want to link to, or just type a Web site in the Address box.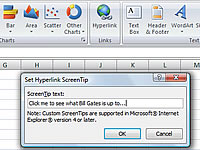 6

(Optional) Click the ScreenTip button to the right of the Text to Display box to enter ScreenTip text.

The ScreenTip text will appear when a user hovers the mouse cursor over the hyperlink.
7

Click OK.

If you started with values in a cell, those values will appear underlined and in blue, indicating an active hyperlink.