Filtering by Color in an Excel 2007 Table
Filtering by Color in an Excel 2007 Table
If you've applied color to fonts or cells in an Excel 2007 table, you can filter the table to display a subset of the data with the colors you specify. The rows that do not match the criteria you specify are hidden temporarily.
Excel 2007 tables automatically display filter arrows beside each of the column headings. To display the filter arrows so that you can filter data, format a range as a table by using the Table button on the Insert tab. Or, you can click the Filter button in the Sort & Filter group on the Data tab.
1

Click the filter arrow for the column by which you want to filter data.

The filter drop-down list appears.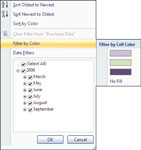 2

Point to Filter by Color in the drop-down list.

A submenu of color options appears. You can filter by Cell (background) Color or by Font Color. The submenu you see depends on the color choices in your data.
3

Select an option.

Excel displays the table using the filter you requested.

To remove filters and redisplay all table data, click the Clear button on the Data tab. If multiple columns are filtered, you can click a filter arrow and select Clear Filter to remove a filter from that column only. To remove the filter arrows when you're done filtering data, choose Filter in the Sort & Filter group of the Data tab (or press Ctrl+Shift+L).