Using PowerPoint's Presenter View in Office 2011 for Mac
Using PowerPoint's Presenter View in Office 2011 for Mac
The alternative, enriched way to launch your PowerPoint 2011 for Mac slide show is to use Presenter view. Do remember though that you need two displays for this view to work — either two monitors or a laptop-projector combo will work.
When you use Presenter view, you see a special view (typically on your laptop), while your audience sees only the slides (typically projected). To activate Presenter view, do any of the following:
Choose View→Presenter View from the menu bar.

Click the Ribbon's Slide Show tab, and in the Presenter Tools group, click Presenter View.

Press Option-Return.
Your slide show is now running in Presenter view.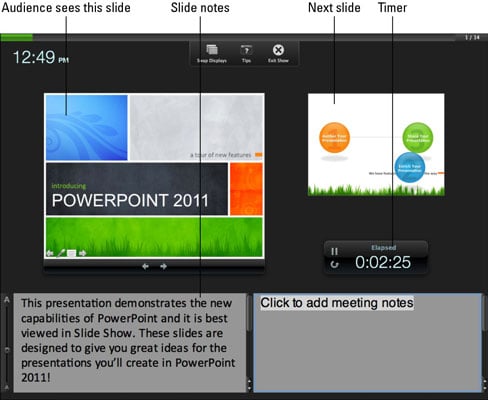 Presenter view may look a bit busy at first. In actual use, Presenter view is a simple, clean interface. The window is split into quadrants. The top-left quadrant displays the slide as the projector is displaying it. The top-right quadrant displays the next slide in the presentation. The bottom-left portion displays the text of the slide notes for the slide being displayed. The bottom-right area is where you can type slide notes as the presentation is playing.
If you add notes during a presentation, remember to save the presentation before closing it so you don't lose those notes!
While most of the interface is self-explanatory, some items need a bit of discussion:
Swap Displays: If you end up seeing Presenter view on your projected output, click this button to switch which monitor displays Presenter view, and which monitor displays the slides.

Tips: Click to display keyboard shortcuts you can use in Presenter view.

Exit Show: Click to end the slide show and display Normal view.
Well that's really impressive, but what if you want to display a particular slide within your show? The secret is to move the mouse cursor to the bottom of the Presenter view window. A gallery of your slides appears. Drag the scroll bar to see more slides. Click a slide to display it to your audience. Yes, it's like being a PowerPoint DJ!