Put Your Company Logo in the Corner of All PowerPoint Slides
Put Your Company Logo in the Corner of All PowerPoint Slides
A company logo in the corner of all PowerPoint slides in a presentation tells viewers in no uncertain terms which company the presenter works for. And a company logo looks good, too.
To put a logo (or any other image) on all slides, start by obtaining the image in a graphics file. Then place the graphic in a corner of the master slide. Any item that appears on the master slide appears on all slides in the presentation.
Follow these steps to put a logo or other image in the corner of all slides in a presentation: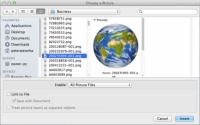 2

Choose Insert→Photo→Picture from File to open the Choose a Picture dialog box.

You will see your picture files in the dialog box.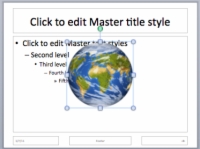 3

Locate the graphic file you want to put on all slides, select it, and click the Insert button.

The graphic lands in the middle of the master slide.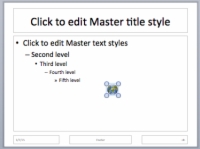 4

Drag a selection handle on the corner of the graphic toward the center of the graphic to decrease the graphic's size.

Dragging selection handles on graphics changes their size.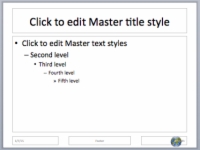 5

Drag the graphic into a corner of the master slide.

Position the logo where you would like for it to appear.
6

Choose View→Normal to leave Slide Master view.

How do you like the logo? If you need to adjust its position or size, choose View→Master→Slide Master to return to Slide Master view. From there, change the logo's size and position.