Office 2011 for Mac: Print Your PowerPoint Presentation
Office 2011 for Mac: Print Your PowerPoint Presentation
Although it's most common to print handouts on regular-size paper, you can use PowerPoint 2011 for Mac to print large-scale versions of slides to use for poster sessions at booths in conferences or for wall mounting. You can also use PowerPoint 2011 to print small-scale objects, such as postcards. Your printing output can take a variety of forms, such as PDF, slides, handouts, and Notes Pages.
Printing handouts for everyone in PowerPoint 2011 for Mac
If you need to print handouts to give to your attendees, PowerPoint offers many options that you can access by choosing File→Print from the menu bar or by pressing Command-P rather than clicking the Print button on the Standard toolbar. If you click the Print button on the Standard toolbar, PowerPoint prints full-page printouts of the slides, which may or may not be what you want.
Printing handouts with note-taking lines
This very popular arrangement prints pictures of three slides on the left, along with lines for notes on the right, on each page. This handout option is the only one that prints note-taking lines. You can find this option in the Print What pop-up menu in the Print dialog. Choose Handouts (3 Slides per Page) from the pop-up menu. The other handout options print pictures of the slides in various arrangements that you can see in the preview when you select them.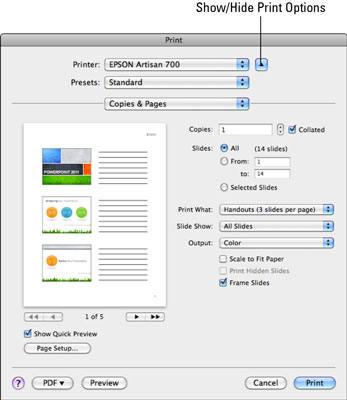 Choose Page Setup→Orientation→Notes, Handouts & Outlines from the menu bar to change the orientation to landscape, where the pictures of your slides go across the page and the lines appear beneath.
You can format the handout background by choosing View→Master→Handout Master from the menu bar.
Printing handouts with slide notes
Another popular style of printing is to print the Notes view. These printouts include one slide per page. Each page has a picture of the slide, plus the slide notes for that slide. You follow the same procedure as described in the preceding section, except that in the Print What pop-up menu, you need to choose Notes.

Printing the slide outline in PowerPoint 2011 for Mac
The option at the bottom of the Print What pop-up menu in the Print dialog is Outline. This option prints the text that appears in the Outline pane of the Normal view.
When it's time to print those handouts, you might want to have page numbers and other information for your audience.
Printing slides on nonstandard paper sizes
If you know you're going to print to a paper size other than PowerPoint's default, choose File→Page Setup from the menu bar before you create any slides, Slide Masters, or slide layouts in your presentation. If you wait until after you build your presentation, when you change the paper size, it can cause graphic objects and even text to look squished, stretched, or otherwise distorted. PowerPoint can print large posters if you have access to a large format printer. Likewise, you can use Page Setup to choose a very small size.
Printing as PDF
Maybe you don't have to print to paper; instead, you can print to PDF files. In PowerPoint, use the Print What pop-up menu in the Print dialog to choose what aspects of your presentation to print as a PDF file, and then click the PDF button to save what you have chosen. Choosing File→Save As PDF saves full slides in PDF format.