How to Use the Thesaurus in PowerPoint 2007
How to Use the Thesaurus in PowerPoint 2007
PowerPoint includes a built-in thesaurus that can quickly show you synonyms for a word that you've typed in your PowerPoint presentation. Use the PowerPoint Thesaurus to find alternatives so you don't keep using the same word over and over. To use the Thesaurus, follow these steps: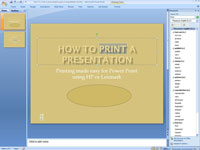 1

Right-click a word that you've typed and choose Synonyms from the menu that appears.

A menu listing synonyms for the word appears. (Sometimes PowerPoint throws an antonym into the list just to be contrary.)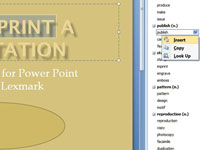 2

Select the word that you want to use to replace your word.

PowerPoint replaces the original word with your selection.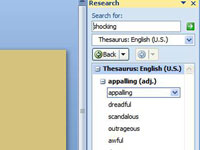 3

Choose Thesaurus from the Synonyms menu.

The Thesaurus section of the Research task pane appears with the synonyms listed. The Thesaurus lets you look up words to find even more synonyms. For example, if you select shocking from the list of synonyms, you get another set of words. You can keep clicking words to find other synonyms.