How to Use the PowerPoint 2007 AutoCorrect Feature
How to Use the PowerPoint 2007 AutoCorrect Feature
PowerPoint's AutoCorrect feature can correct spelling and style errors as you type in your PowerPoint slides. If you type teh, PowerPoint automatically changes it to the. If you forget to capitalize the first word of a sentence, PowerPoint capitalizes it for you. To use AutoCorrect, follow these steps: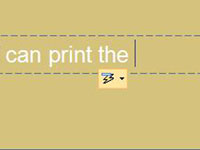 1

Move the insertion pointer back to a word that has been corrected.

A blue line appears beneath the first letter of the word. Point at blue line, and the button with a lightning bolt in it appears.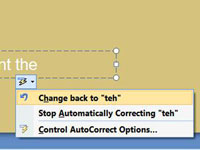 2

Click lighting bolt button to open a menu.

Undo the correction that was made, tell PowerPoint to stop making that type of correction, or summon the AutoCorrect options dialog.
3

Click the Office button and choose PowerPoint options.

The PowerPoint Options dialog box opens.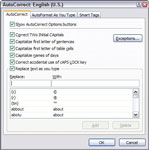 4

Choose the Proofing tab and click AutoCorrect Options.

The AutoCorrect Options dialog box contains check boxes for options that govern how AutoCorrect works. By clicking Show AutoCorrect Options buttons, you see the AutoCorrect button beneath words that were changed by the AutoCorrect feature. Correct TWo INitial CApitals looks for words with two initial capitals and changes the second one to lowercase. Capitalize first letter of sentences automatically capitalizes the first word of a new sentence if you forget. There are several other options for you to set AutoCorrect to work pretty much how you'd like it to.