How to Time Your PowerPoint 2007 Animations
How to Time Your PowerPoint 2007 Animations
Most PowerPoint animations are initiated by mouse clicks. However, you can set up PowerPoint animations to activate automatically in a sequence or all at the same time. The first trick to controlling animation timing is to list the effects in the custom animation in the correct order. Effects are added to the list in the order you create them, but you can reorder them by dragging the effects up or down in the Custom Animation task pane.
After you get the effects in the right order, choose an option from the Start drop-down list that's near the top of the Custom Animation task pane to set the Start setting for each effect. This setting has three options:
On Click: Starts the effect when you click the mouse or press Enter

With Previous: Starts the effect when the effect above it starts

After Previous: Starts the effect when the preceding effect finishes
With your PowerPoint presentation open and the slide you want to animate selected, follow these steps to time animations: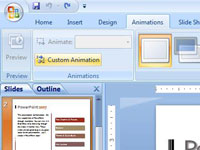 1

Click the Animations tab on the Ribbon and click Custom animations.

The Custom animations task pane opens.