How to Start a PowerPoint 2007 Slide Show
How to Start a PowerPoint 2007 Slide Show
You've put hours into creating a great PowerPoint presentation. PowerPoint is designed to display slides present on a screen. PowerPoint can show your presentation on your computer's own monitor, a projector, or an external monitor such as a giant-screen Plasma or LCD display.
When you want to do a slide show in a one-on-one or small group setting without a projector, beginning the show is just a click away.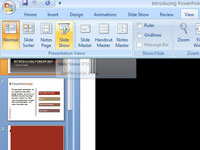 1

Click the Slide Show button located (along with the other View buttons) in the lower-right corner of the screen.

If you have set up a full-screen slide show, PowerPoint fills the entire screen with the first slide of the slide show.
2

Click the mouse, or press Enter, the down arrow, Page Down, or the spacebar.

PowerPoint advances to the next slide.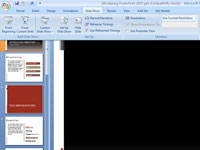 3

Alternatively, open the Slide Show tab on the Ribbon.

The Ribbon works just as easily as the Slide Show button.