How to Record a Narration in PowerPoint 2007
How to Record a Narration in PowerPoint 2007
PowerPoint lets you record a narration for your PowerPoint slide show. As you record your narration, PowerPoint stores slide files separately so the slides are synchronized with the narrations you recorded. To record a narration, go to the first slide of your presentation and then follow these steps: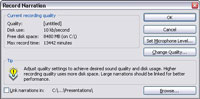 1

Open the Slide Show tab and then click the Record Narration button in the Set Up group.

The Record Narration dialog box informs you how much hard drive space you have and calculates the maximum length of the narration that you can record.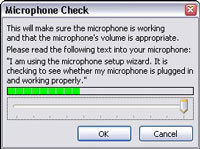 2

Click the Set Microphone Level button.

The Microphone Check dialog box opens. Talk into the microphone. PowerPoint adjusts your microphone sensitivity. When you're finished, click OK.
3

Click OK to begin the slide show.

The first slide of your presentation displays.

4

Speak into the microphone. Press Enter to advance to a new slide.

When you reach the end of the slide show, PowerPoint asks if you want to save the timings.

As you record the narration, leave a gap between each slide. PowerPoint records the narration for each slide as a separate sound file and attaches the sound to the slide. You get cut off if you talk through slide transitions
5

Click Save if you want PowerPoint to advance your slides with your narration.

To advance slides manually, click Don't Save. You're taken to PowerPoint's Slide Sorter View, where the timing for each slide is displayed along with the slides.
6

Click the Slide Show button to test your narration.

The slide show begins. The narration plays through your computer's speakers.