How to Print Notes Pages in PowerPoint 2007
How to Print Notes Pages in PowerPoint 2007
If you don't have a computer that can show your PowerPoint slides on a projector and your PowerPoint notes on a separate monitor, you can print your notes on paper and use them while you give your presentation. These steps show you how to print your notes: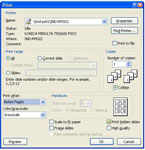 3

Select the Print Hidden Slides check box to print notes pages for hidden slides.

The Print Hidden Slides check box is dimmed if the presentation doesn't have any hidden slides.